牛临百吉 光照繁花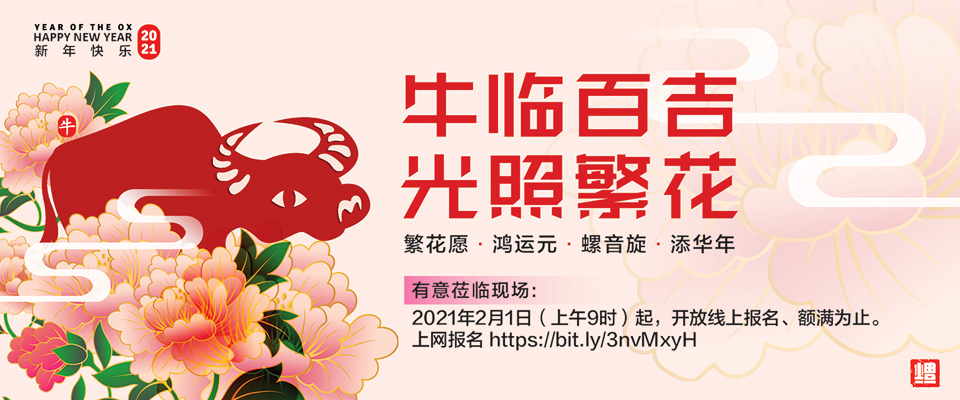 ---
农历新年 消灾祈福法会 (Chinese New Year Blessing Puja)
供天:农历正月初九 | 2021年2月20日 (星期六) | 早上6时至8时 | 无相殿
消灾:农历正月初十 | 2021年2月21日 (星期日) | 早上10时至11时15分 | 大悲殿
补运:农历正月十五 | 2021年2月26日 (星期五) | 早上6时30分至下午1时30分 | 无相殿
*

莅临补运祈福现场: (

FULL 额满

)
---
农历新年 如意灯 (Chinese New Year Wish-fulfilling Lantern)
亮灯日期:农历十二月三十日至 农历正月十五日 | 2021年2月11日至2月26日
地点:大悲殿与光明殿
如意灯功德主祈福法会:农历正月初七 | 2021年2月18日 (星期四) | 早上10时至11时30分
地点:大悲殿
*

莅临现场: (

FULL 额满

)
---
♦ 供斋、供天、消灾及补运报名
1) 上网报名https://enets.kmspks.org/new/cny
2) 新加坡佛学院入口处柜台 | 上午9时至下午3时
3) 寺务处 | 上午9时至下午4时
(请至 https://bit.ly/2yIQtZz 预约到访时段)
¶ Due to overwhelming response of the visitors' booking system for Chinese New Year events, you may experience intermittent connectivity issues. Please try again later.
¶ Kindly try to clear your browser's cache, use a different browser or switch to a different device (desktop/laptop if you are experiencing issues on the mobile browser or vice versa) to make your time slot booking.
¶ We sincerely apologise for the inconvenience caused and seek your kind understanding.
♦ 农历新年如意灯报名

♦ 莅临现场报名
* 本寺将于2021年2月1日(上午9时)起,开放名额让信众前来寺院参与农历新年祈福法会。
欲莅临法会现场,请于线上报名(每人只限报名2个名额,额满为止)。
You might also be interested in.. 您可能喜欢…