2021 Buddhist Discourse (FULL)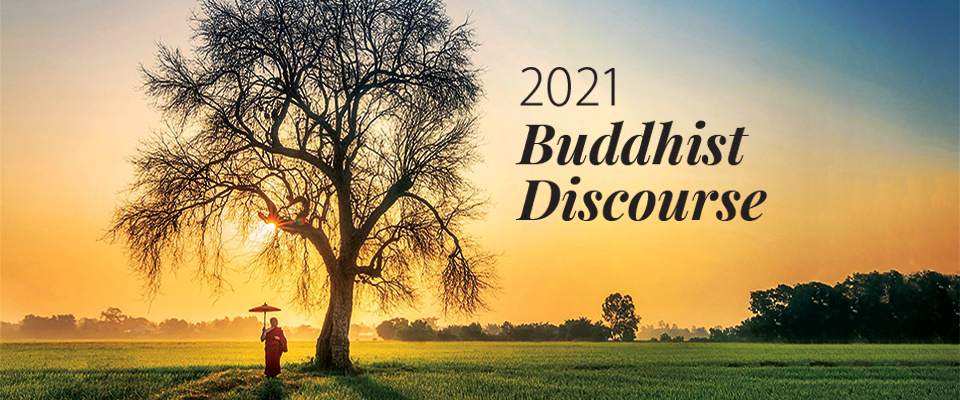 Sutra Piṭaka (Basket of Discourse) is one of the most important sources for understanding the Dharma and spiritual development. It contains hundreds of discourses that covers wide range of topics that is relevant to our daily life in this modern time; such as relationships among family members, wider societal issues, and even concerns about being overweight.
Sutra Piṭaka also conveys the vibrant, dynamic and crisscrossing cultural currents that characterise the life of the Buddha. Through such vivid explorations, Buddha's teachings are delivered for the betterment of sentient beings and the beautiful fruits of Buddhist practice can be tasted not only in the future, but also the present.
Register for the 2021 Buddhist Discourse and begin your spiritual enhancement journey today.
Instructor: Venerable Dr. Chuan Xuan
Born in 1979, Venerable Dr. Chuan Xuan became a novice monk in 1998. He devoted the years before and after his ordination under the Most Venerable Master Mingshan at Nanshan Monastery, Zhangzhou, Fujian, in 2000 to the learning of the Buddha-dharma and to the study of monastic stipulations at monasteries in Sichuan and Fujian.
In 2005, he came to KMSPKS to live under the tutelage of the Most Venerable Kwang Sheng before pursuing further studies overseas. Venerable Dr. Chuan Xuan obtained his BA, MA, and PhD at the University of Kelaniya, Sri Lanka (2005-2011), SOAS, UK (2011-2013) and the University of Ghent, Belgium (2013-2018) respectively. In 2018, Venerable Dr. Chuan Xuan returned to KMSPKS to join the teaching faculty at the Buddhist College of Singapore.
Topic
Content
Date (every Sun)
Video Download Time
Module 1
(8 lessons)
Buddhist Morality

Buddhism and its relevance to our life.
Buddha's teachings and its historical context.
Message delivered to a lay follower of the Buddha.
Facts on day-to-day life experiences such as family and societal issues.

17 Jan to 7 Mar 2021
3pm
Module 2
(8 lessons)
Buddhist Mental Development

Preparing for the foundation: a moderate practiser, a forgiving heart and a pleasant disposition.
Beginning of meditation: a comprehensive map, a gradual advancement.
Departing from a meditative state: a meaningful break-through.

11 Apr to 30 May 2021
Module 3
(8 lessons)
Buddhist Insight and Wisdom

Action and karmic retribution.
Co-existence and dependent origination.
Suffering and the cessation of suffering.

4 Jul to 22 Aug 2021
Important Notes:
Please refer to http://bit.ly/BD2021schedule for the latest class schedule.
Each lesson is 1 hour 30 minutes long.
For course fee concession, please email to ded@kmspks.org.
Registration is non-exchangeable, non-transferable, and non-refundable upon confirmation.
Video link will be sent to registrants via email nearer to the date.
Registrants may download the lesson video from 3pm on lesson day.
Registrants must be mindful to avoid sharing/posting the download link/video with non-registrants.
Venue:
E-Learning (Pre-recorded Video)
Fee:
$110 per person per course year
To Register:

1) Online Registration at http://bit.ly/BD2021Reg
(Online registration is closed for this event.)

2) Reception Office @ KMSPKS | 9am – 4pm