Lunar New Year Online Ancestral Prayer Service (Closed-door Prayer Service) 农历新年线上祭祖(闭门佛事)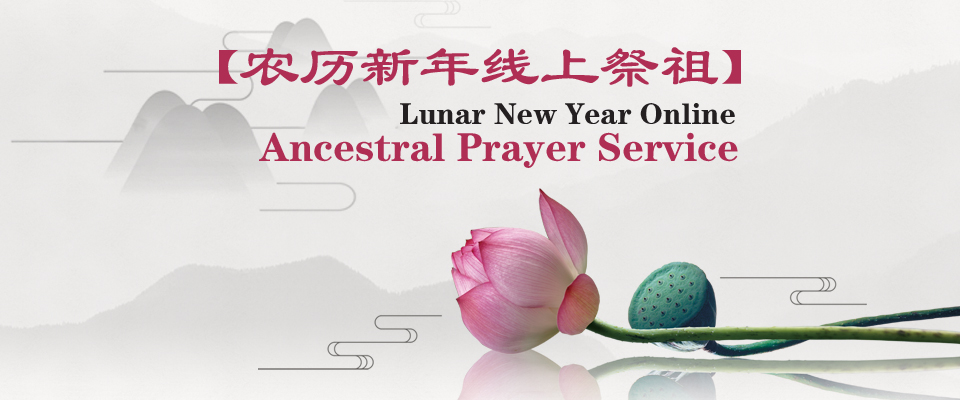 为方便无法前来寺院祭拜祖先的民众,本寺特别推出线上祭祖配套,让公众可以在不踏出家门的状况下,由寺院代劳祭拜祖先。
KMSPKS is offering an Online Ancestral Prayer Service for those who are unable to pay respect to their ancestors or deceased loved ones in person.
Register online and pay respects to your departed loved ones this Lunar New Year.
备注:

1. 此为闭门佛事,统一由法师诵经回向,不开放让公众前来参与。
2. 共用祭品包括斋菜、水果、花及红白包。
3. 只接受上网预订。
4. 预订完成后,恕不退款。

Note:

1) This closed-door prayer will be conducted by Venerables and is not open to public.
2) Offering items comprise of vegetarian dishes, fruits, flowers, and buns.
3) Online registration only.
4) Prayer service cannot be cancelled after payment.
报名日期
Registration Date

2022年1月8日至28日
8 to 28 Jan 2022
诵经日期
Prayer Date

2022年1月30日 | 农历十二月廿八(星期日)
30 Jan 2022 (Sun)
诵经地点 / 时间
Prayer Venue / Time
• 净土堂:上午9时30分
• 火化场:上午10时30分
• Hall of Pureland: 9.30am
• Crematorium: 10.30am
费用
Fee

$48
农历新年祭祖
Lunar New Year Ancestral Prayer
网上报名 ONLINE REGISTRATION
询问详情
Enquiry
6849 5333