Online Pledge of "Bhaiṣajyaguru" the Medicine Buddha's Name Chant 药师佛圣号线上念诵修持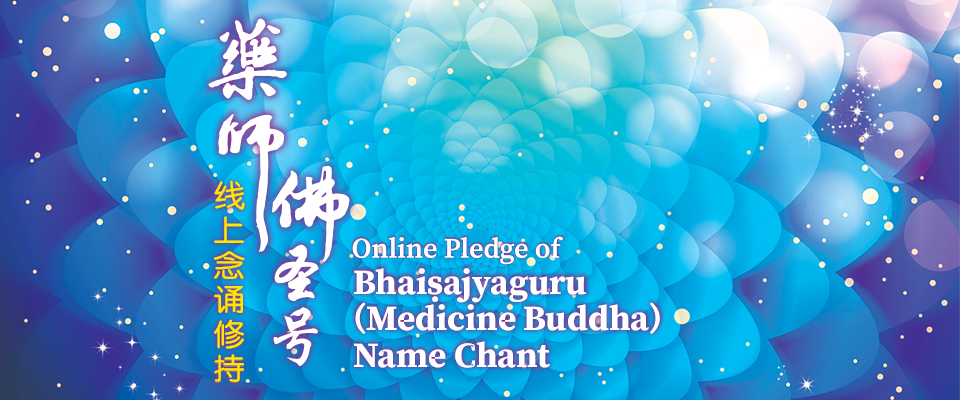 A simple chant of Buddha's name holds unlimited merits. It is the buoy of compassion as we navigate the sea of life and death, providing light during the long, dark nights.
Join us in celebrating the Birth Day of Medicine Buddha, the Buddha of healing and medicine, through the Online Pledge of Medicine Buddha Name Chant from 6 October to 4 November 2021. Recite the sacred chant of " Namo Xiaozai Yanshou Yao Shi Fo" , submit your count on our website, and dedicate the merits to your loved ones.
May everyone be blessed with happiness, peace, and joy.
一句佛号,是无量功德的结晶,是生死苦海中的慈航,是漫漫长夜里的明灯。
因应即将到来的农历九月药师佛圣诞,诚邀大众在2021年10月6日至11月4日(农历九月初一至九月三十日)参与 "药师佛圣号线上念诵修持"活动,发心念诵"南无消灾延寿药师佛"圣号,回向给您及家人。
请至我们的网站递交您的念诵计数,并参与线上修持,一同祈请药师琉璃光如来的加持。
祝福大家福慧增上、平安喜乐!
Chanting Content:

念诵内容:

"Namo Xiaozai Yanshou Yao Shi Fo"

Click on the link ( https://bit.ly/3kCKJ5T ) to listen to the Medicine Buddha's name chant.

"南无消灾延寿药师佛"

欢迎至( https://bit.ly/3kCKJ5T )聆听药师佛圣号。

Date:

日期:

6 October to 4 November 2021

2021年10月6日至11月4日(农历九月初一至三十日)

Enquiry:

询问:

sed@kmspks.org / 68495300