Relaxation and Mindfulness Meditation 舒心 . 正念 . 静坐班 (Every Sunday) (Suspended till further notice)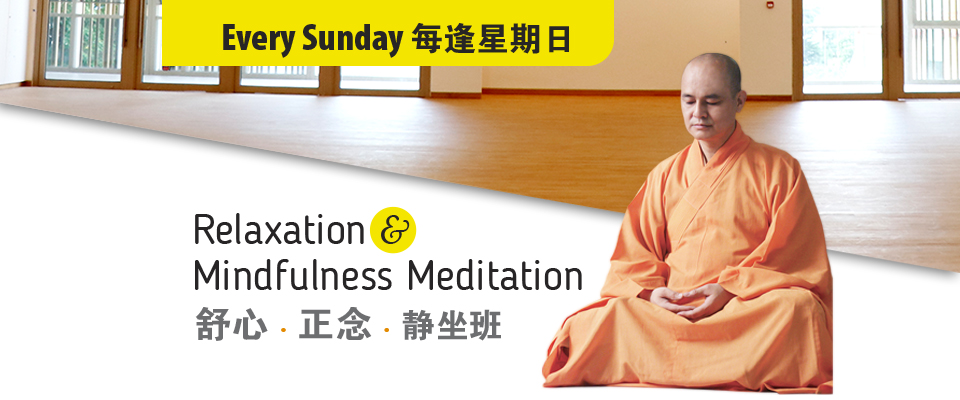 Suspended till further notice
---
In view of the latest announcement by the Multi-Ministry Taskforce on COVID-19 and additional guidelines issued by MCCY, please be informed that:
Only fully vaccinated individuals will be allowed to participate in the RMM Course.
You will be considered fully vaccinated if you fulfil one of the following conditions:
• Two weeks after receiving the 2nd dose of Pfizer, Moderna or WHO's Emergency Use Listing vaccines such as Sinovac, Sinopharm and AstraZeneca.
• Have recovered from COVID-19 in the past within the past 270 days.
• Have a valid negative pre-event test (ART/PCR) result taken at an MOH-approved clinic in the past 24 hours before the expected end of the activity.
根据政府跨部门防疫工作小组及文化、社区及青年部宣布的最新防疫措施及指导方针,本寺措施将调整为:
只有完成疫苗注射的人才能参加舒心 . 正念 . 静坐班。
* 符合下列标准者将视为已完成疫苗注射:
• 已注射第二剂疫苗超过14天(辉瑞、莫德纳或 "世卫组织紧急使用清单" 疫苗,如:科兴、国药及阿斯利康疫苗)。
• 在过去270天内从冠状病毒感染中复原。
• 在到访寺院前的24小时内至卫生部核准的诊所进行活动前检测(ART/PCR)且结果呈阴性。
---
Is the hectic pace of everyday life leaving you overwhelmed?
Take a moment to relax and practise a meditation technique.
Join Venerable Kwang Sheng as he shares how meditation and Buddhist teachings can help us to re-energise ourselves and to re-focus our mind, bringing about a sense of peace and well-being.
生活的忙与盲是否让你精神紧张而无法轻松快乐?

广声法师将与你分享,如何通过静坐以及佛法融入生活,达到身心舒缓,欢喜自在的心境。
Profile 简介
Venerable Kwang Sheng was ordained under Venerable Hong Choon in 1980. Following that, he spent a number of years studying and practising in different countries such as Taiwan, Myanmar, Thailand, Japan and Korea. He spent a total of three years practising Zen meditation in Songgwangsa, Korea.
广声法师在1980年于宏船老和尚座下披剃。而后多年,广声法师到缅甸、泰国、日本和韩国遍参知识,问学访道,并连续三年在韩国松广寺专学潜修禅法。
---
Note:
* Recommended for ages 12 and above only.
* Limited seats available.
* 只限12岁以上的孩子参加。
* 额满为止。
Date : 29 Aug – 17 Oct 2021 | Every Sunday
* Dates may be subject to change
Time : 4pm ~ 5.30pm
Venue : Meditation Hall
Fee : $30 ( 8 lessons per course )
---
日期:2021年8月29日至10月17日 | 每逢星期日
* 日期有可能更改
时间:下午4时至5时30分
地点:禅堂
费用:$30 ( 课程共有8堂课 )
Note:
* Recommended for ages 12 and above only.
* Limited seats available.
* If registration is full, kindly indicate your interest to be placed on waiting list via http://bit.do/21rmmsunWL.
* We would contact you once there is seats available due to any last minute cancellations / withdrawal.
(First come first serve basis)
* If you are unable to pay the course fee, you will not be refused. Pls call 6849 5346 or email meditationhall@kmspks.org for more details.
You might also be interested in.. 您可能喜欢…