Relaxation and Mindfulness Meditation 舒心 . 正念 . 静坐班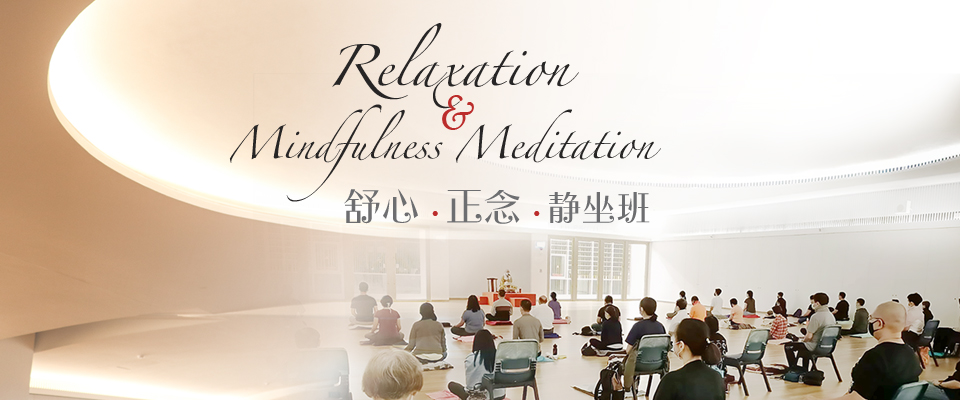 Is the hectic pace of everyday life leaving you overwhelmed?
Take a moment to relax and practise a meditation technique.
Join Venerable Kwang Sheng as he shares how meditation and Buddhist teachings can help us to re-energise ourselves and to re-focus our mind, bringing about a sense of peace and well-being.
生活的忙与盲是否让你精神紧张而无法轻松快乐?

广声法师将与你分享,如何通过静坐以及佛法融入生活,达到身心舒缓,欢喜自在的心境。
Profile 简介
Venerable Kwang Sheng was ordained under Venerable Hong Choon in 1980. Following that, he spent a number of years studying and practising in different countries such as Taiwan, Myanmar, Thailand, Japan and Korea. He spent a total of three years practising Zen meditation in Songgwangsa, Korea.
广声法师在1980年于宏船老和尚座下披剃。而后多年,广声法师到缅甸、泰国、日本和韩国遍参知识,问学访道,并连续三年在韩国松广寺专学潜修禅法。
---
Note:
* Recommended for ages 12 and above only.
* Limited seats available.
* 只限12岁以上的孩子参加。
* 额满为止。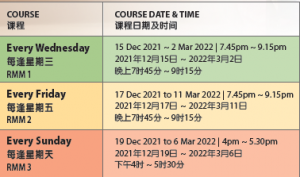 Venue: Meditation Hall
Fee: $30 per person
*No lessons from 17 Jan to 15 Feb 2022.
*Dates may be subject to change.
地点:禅堂
费用:每人$30
*2022年1月17日至2月15日暂停
*日期有可能更改
Registration Methods:
• Register Online –
http://bit.do/21rmmwed4reg (Wednesday Class) (FULLY REGISTERED)
http://bit.do/21rmmfri4reg (Friday Class)
http://bit.do/21rmmsun4reg (Sunday Class) (FULLY REGISTERED)
• Reception Office@KMSPKS | 9am ~ 4pm
*Kindly book a timeslot via https://bit.ly/2yIQtZz & bring along your IC for registration.
*All classes are strictly non-refundable and non-transferable upon successful registration.
• If registration is full, kindly indicate your interest to be placed on the waiting lists below. In the event of any cancellations, interested participants on the waiting list will be contacted on a first-come, first-served basis.
http://bit.do/21rmmwedWL (Wednesday Class)
http://bit.do/21rmmsunWL (Sunday Class)
---
报名方式:
• 网上报名 –
http://bit.do/21rmmwed4reg(星期三班)(报名已额满)
http://bit.do/21rmmfri4reg(星期五班)
http://bit.do/21rmmsun4reg(星期日班)(报名已额满)
• 接待处@KMSPKS | 早上9时至下午4时
*请至 https://bit.ly/2yIQtZz 预约到访时段并携带身份证前来报名。
*报名后恕不接受退费或课程转让的要求。
• 如果报名已额满,请至以下链接填写等候名单。如有临时取消的名额,我们将依照等候名单的顺序与您联系。
http://bit.do/21rmmwedWL (星期三班)
http://bit.do/21rmmsunWL (星期日班)
---
Enquiry / 询问: 6849 5346 | meditationhall@kmspks.org
Note:
* Recommended for ages 12 and above only.
* Limited seats available
You might also be interested in.. 您可能喜欢…