Relaxation & Mindfulness Meditation 舒心 . 正念 . 静坐班 (FULL)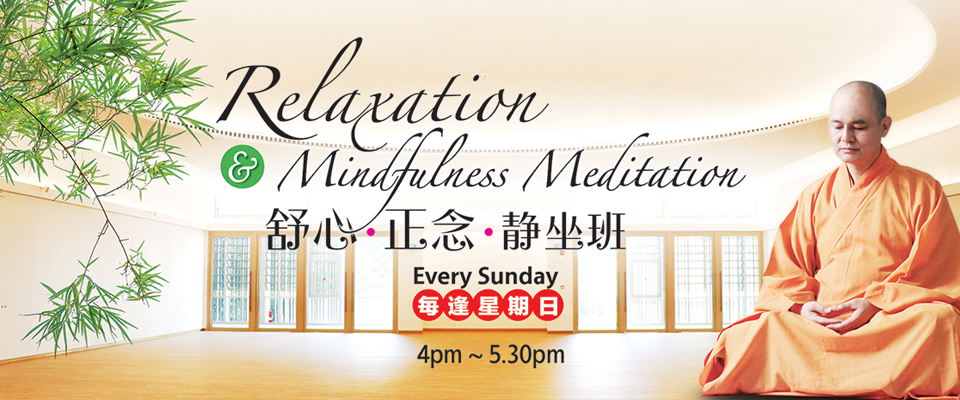 Is the hectic pace of everyday life leaving you overwhelmed?
Take a moment to relax and practise a meditation technique.
Join Venerable Kwang Sheng as he shares how meditation and the Buddhist teachings can help us to re-energise ourselves and to re-focus our mind, bringing about a sense of peace and well-being.
生活的忙与盲是否让你精神紧张而无法轻松快乐?
广声法师将与你分享,如何将静坐以及佛法融入生活,达到身心舒缓,欢喜自在的心境。
Profile 简介
Venerable Kwang Sheng was ordained under Venerable Hong Choon in 1980. Following that, he spent a number of years studying and practicing in different countries such as Taiwan, Myanmar, Thailand, Japan and Korea. He spent a total of three years practising Zen meditation in Songgwangsa, Korea.
广声法师在1980年于宏船老和尚座下披剃出家,随后到台湾、缅甸、泰国、日本和韩国遍参知识、问学访道,并在韩国松广寺潜修禅法长达三年。

Date : 10 Jan to 7 Mar 2021 | Every Sunday
* No lesson on 7, 14, 21 Feb due to CNY celebration
* Dates may be subject to change
Time : 4PM – 5.30PM
Venue : Meditation Hall
Fee : $30
---
日期:2021年1月10日至3月7日 | 每逢星期日
* 2月7,14,21日的课将因农历新年暂停
* 日期有可能更改
时间:下午4时至5时30分
地点:禅堂
费用:$30
To Register 报名方式 :
Online Registration http://bit.do/21rmmsun
Reception Office | 9am to 4pm
(Kindly book a timeslot via https://bit.ly/3mAi6rc & bring along your IC for registration)
上网报名 http://bit.do/21rmmsun
接待处 | 上午9时至下午4时
(请至https://bit.ly/3mAi6rc 预约到访时段并携带身份证前来报名)
Registration Closing Date: 9 Jan 2021 (Limited seats)
报名截止日期: 2021年1月9日或额满为止

Note: Recommended for ages 12 and above only
注:只限12岁以上的孩子参加。
Enquiry: 6849 5346 | meditationhall@kmspks.org
If registration is full, kindly indicate your interest to be placed on waiting list via http://bit.do/21rmmsunWL. In the event of any cancellations, interested participants on the waiting list will be contacted on a first come, first served basis.
如果报名已额满,请至 http://bit.do/21rmmsunWL 填写等候名单。如有临时取消的名额,我们将依照等候名单的顺序与您联系。
You might also be interested in.. 您可能喜欢…