Parents Dharma Classes 2020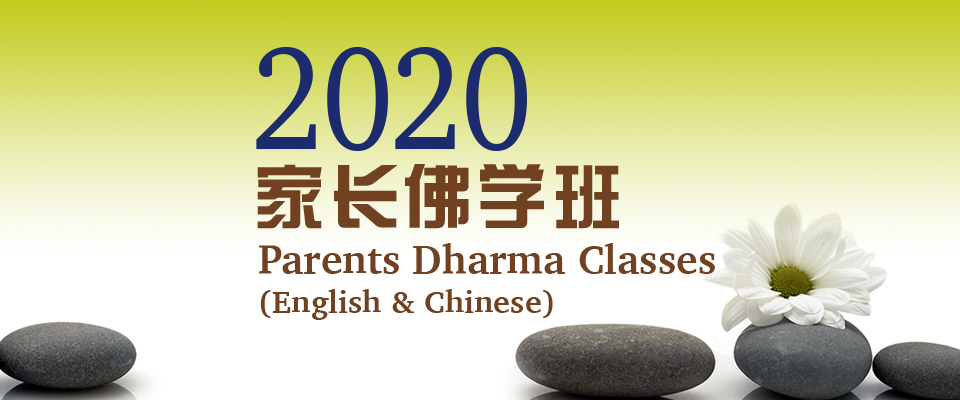 2020 Parent Dharma Class conducted by Venerable Ren Xu
2020 家长佛学班 仁虚法师授教
Sign up for our Parents Dharma Classes and learn how to incorporate Buddhist teachings into your daily life and foster positive family values.
欢迎报名家长佛学班,学习如何将佛法融入生活,以建立一个幸福和谐的佛化家庭。
*

In view of the Novel Coronavirus, the monastery will be temporarily stopping all our activities. Please refer to

Notice on Novel Coronavirus f

or the latest update.
* 鉴于新型冠状病毒肺炎疫情持续扩散,本寺将暂停所有活动。最新消息请浏览新型冠状病毒通告。
Description
Date 日期:
Time 时间:
Saturday Parents Dharma Class (English)

Common misunderstanding and confusion
Proper understanding of Buddhism
What is pseudo-Buddhism
Five elements of learning Buddhism
Stages of practising Dharma
Multiple dimensions of Buddhism
Comparison of Eastern & Western Buddhism

1 February to 18 April 2020 (every Sat when there is KMS Dharma School; 8 lessons)
4.30pm to 6pm
星期六家长佛学班(中文)

常见疑问和困惑
正确的认识佛学
什么是附佛外道
学佛的五个要素
佛法的修学次第
多维视角看佛教
东西方佛教对比

2020年2月1日至4月18日 (上少儿班的每个星期六; 8堂课)

下午2时至3时30分
星期日家长佛学班(中文)
2020年2月2日至4月19日 (上少儿班的每个星期日; 8 堂课)
下午1时30分至3时
Note: No refunds will be given for missed lesson(s).
注:如有缺席,恕不退款。
Fee:

费用:

Parents whose children are enrolled in KMS Dharma School: $10 for both parents
Public: $10 per person
光明山少儿佛学班学生的家长:家长双方$10
公众:每人$10

Venue:

地点:

Venerable Hong Choon Memorial Hall | Level 3 | Classroom 307
宏船老和尚纪念堂 | 3楼 | 307号课室
Important Note / 注意事项:
No refunds will be given for missed lesson(s).
如有缺席,恕不退款。
You might also be interested in.. 您可能喜欢…