The Way to Buddhahood 2020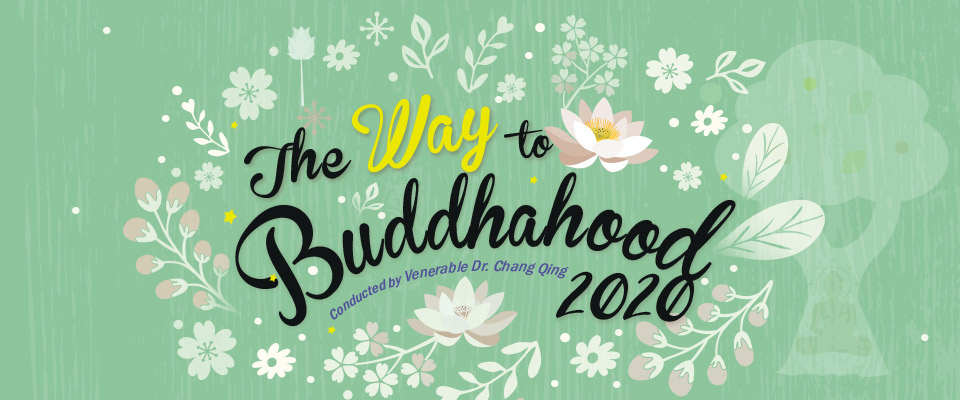 Buddhist teachings are simply methods for becoming a Buddha. The real purpose of the Buddha appearing in this world is to teach people to enter the Buddha-way from human lives as once said by Venerable Master Taixu.
Hence, beginners should practise both the ten good deeds (without abandoning the worldly affairs of daily life) and following the right deeds of the Human Vehicle to enter the Buddha Vehicle instead of emphasising practices of renunciation. This course contains methods for becoming a Buddha and reveals the entire sequence of the Buddha-way, leading one to the supreme Buddha realm.
About the Speaker:
Venerable Dr. Chang Qing, Assistant Professor at Buddhist College of Singapore

Venerable Dr. Chang Qing, a Singapore Buddhist monk, ordained in 1989 after he graduated with a Diploma in Mechanical Engineering from Singapore Polytechnic. He also holds a BA in Chinese Literature from the National Taiwan University (1993), as well as a PhD in Buddhist Studies at the University of Bristol (UK, 1998).
He had published several English/Chinese articles and attended several International conferences. He also gave papers for seminars in UK and Singapore. Venerable Dr.Chang Qing regularly conducts Dharma talks and classes, lecturing in areas such as Prajna and Madhyamaka Thought in India and the Philosophy of Three Treatise.
Module 3 (13 lessons)
Details:

Dates
Time
Topics covered
Module 3
(13 lessons)
10 Sep to 03 Dec 20
(Every Thursday)
Upload Video at 5pm
The Distinctive Dharma of the Great Vehicle

Important note:

Pre-requisite: Students must have basic Buddhism knowledge

Students are required to separately purchase the course textbook.
Registration is non-exchangeable, non-transferable and non-refundable upon confirmation.
For course fee concession, please contact us for more details.
For latest updates on the class schedule, please refer to http://bit.ly/TWTBM3Schedule
Date: 10 Sep to 03 Dec 2020 (Every Thursday)
Time: Upload Video at 5pm
*Fee: $60 per person per course year (for Module 3 only)
Note 注意: * Registration is non-exchangeable, non-transferable and non-refundable upon confirmation
Venue 地点: Online Learning
< To Register: >
1) Online registration
• http://bit.ly/TWTBM3
2) Reception Office @ KMSPKS | 9.00am – 4.00pm
Registration Deadline: 09 Sep 20
Enquiry: ded@kmspks.org | Tel: 6849 5300 or 6849 5345
Important note:
Pre-requisite: Students must have basic Buddhism knowledge.
Students are required to separately purchase the course textbook.
For course fee concession, please contact us for more details.
Registration is non-exchangeable, non-transferable and non-refundable upon confirmation.
For latest updates on the class schedule, please refer to http://bit.ly/TWTBM3Schedule