Food Can Be Medicine: An Online Plant-based Home Cooking and Nutrition Course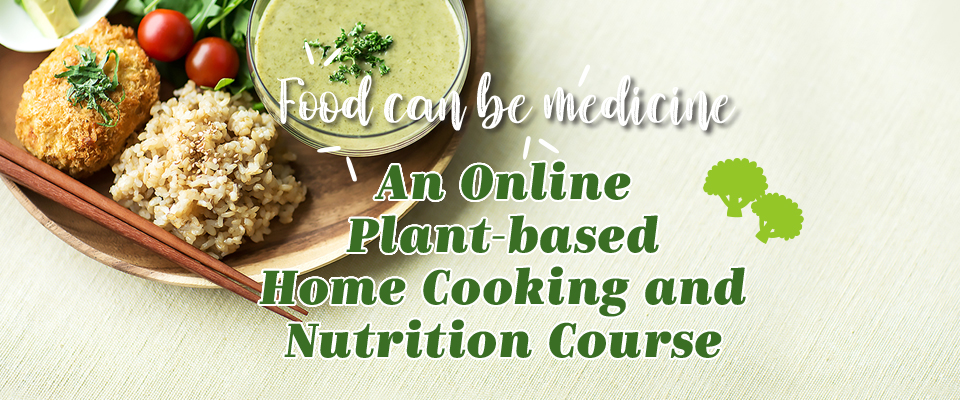 "Let food by thy medicine and medicine be thy food."
– Hippocrates, The Father of Medicine
Our body can heal naturally if we know how to make use of the different types of plant-based whole food in our daily meals, and apply the principles of whole food nutrition for optimal wellness.
Class Details
6 March 2022 (Sunday)
2pm to 5pm
1. Whole Food Nutrition Part I – Food Can Be Medicine (Lecture)
2. Mix and Match Energy Food for Lunch (Cooking demo)
20 March 2022 (Sunday)
2pm to 5pm
1. Whole Food Nutrition Part II – Healthy Living Healthy Kitchen (Lecture)
2. Mix and Match Nutri-Food for Dinner (Cooking demo)
Venue: Online lesson (Zoom)
Fee (per pax): $98 for two sessions
Note: Participants are advised to have a copy of Vinitha's Cookbook with Nutrition Guide as reference for the basic whole food nutrition and recipes.
Instructor: Ms Vinitha Ang
Ms Vinitha Ang is a wholistic health practitioner, registered nurse turned chef who has thread her path towards recovery. She attained training in Nutrition, Psychology, and Healthcare management as well as WSQ certified Adult Educator. With more than 20 years' experience in Healthcare industry, and more than 12 years in Wholistic Health practice as well as Culinary and Nutrition Education.
Through her personalised Nutri-Health consultation service with wholistic Clinical Nutrition approach, she has helped many improve their health and quality of life. She also operated a Vegan café and organic retail business for 5 years. While working in a cancer center, she was also affected by electromagnetic field (EMF) / mobile radiation, and she managed to heal herself through natural remedy.
Date 日期: 6 March (Sun) & 20 March (Sun) (2 sessions)
Time 时间: 2pm to 5pm (both sessions)
Venue 地址: Online lesson (Zoom)
Instructor 导师: Ms Vinitha Ang (洪老师)

Fee 费用: $98 for two sessions