Ani Choying Drolma Vesak Day Concert 琼英卓玛卫塞节音乐会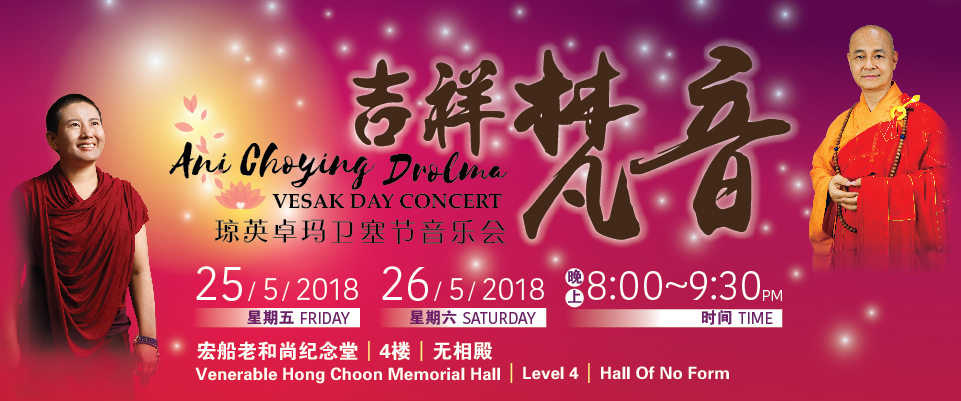 Buddhist music powerhouses Ani Choying Drolma and Venerable Sik Kwang Sheng join hands to bring you two evenings of stirring spiritual performances.
Ani Choying Drolma, a UNICEF National Goodwill Ambassador for Nepal renowned for her "heavenly voice with healing power", will take the stage to perform her repertoire of sacred Buddhist music from her numerous albums.
Joining her on this musical journey is none other than Venerable Sik Kwang Sheng. Venerable Sik Kwang Sheng, the Abbot of Kong Meng San Phor Kark See Monastery with several best-selling albums to his name , is well known for his energetic and powerful drum performances as well as melodic self-composed pieces.
Through this concert, KMSPKS hopes to bring devotees and music lovers together in a festive outpouring of love and gratitude in celebration of Vesak Day.
佛教音乐界里的著名音乐家琼英.卓玛和广声大和尚将携手带给您两晚激动人心的音乐会。
被UNICEF联合国儿童基金会委任为尼珀尔亲善大使的琼英卓玛向来以'荡涤之声'闻名。此次琼英卓玛将再度以其天籁之音演唱她数个专辑中的佛教音乐曲目。参与这个殊胜音乐之旅的正是光明山普觉禅寺方丈广声大和尚。广声大和尚不仅是一位多才多艺的佛教音乐家,也出了许多畅销专辑。他不仅在击鼓上有充满活力的演绎才华,还创作优美人心的佛教音乐。
光明山普觉禅寺希望通过这场音乐会,把信徒与音乐爱好者聚在一起, 以感恩和爱心欢庆卫赛节。
Date: 25 & 26 May 2018 (Fri/Sat)
Time: 8pm – 9.30pm
Venue: Venerable Hong Choon Memorial Hall | Level 4 | Hall Of No Form
宏船老和尚纪念堂 | 4楼 | 无相殿
Ticket Price 门票 $30, $50, $100
Online Purchase 网上购票:
25 May, Fri $30 SOLD OUT | $50 SOLD OUT | $100 SOLD OUT
26 May, Sat $30 SOLD OUT | $50 SOLD OUT | $100 Online Registration Closed
Ticket Purchase and Enquiries 售票及询问处:
Kong Meng San Phor Kark See Monastery 光明山普觉禅寺 | Tel: 6849 5300
Thank you for supporting us!!!
You might also be interested in.. 您可能喜欢…