Detoxification Workshop 排毒与健康实习坊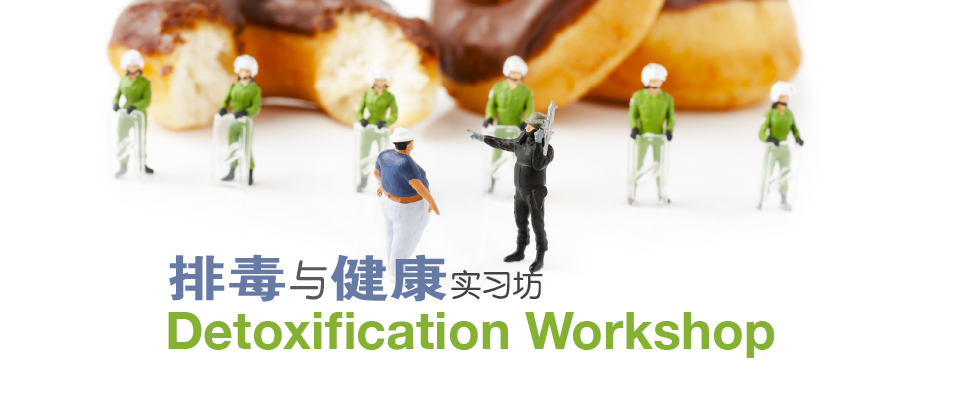 Nowadays, detoxification has become a trend. While it is a good sign that people are more conscious about their health and diet, detoxification is a topic that many people have truly little knowledge about. Participate in this comprehensive educative detoxification workshop to understand why true detoxification is more than just taking a few pills and rushing to the toilet a few times a day.
Before going through detox, it's important to understand
What are toxins?
Where are the toxins?
What are the channels to purge toxins?
What manual Interventions to facilitate in the purging of toxins?
What to prepare prior to Detox?
What augmentations to enhance Detox?
What to follow-up after Detox?
Instructor Profile:
Mr Wong Kee Yew, who has a Bachelor of Biotechnology (Honours), is the Founder and Principal of The Veg School. He is an experienced teacher and advocator of vegetarian for health and a volunteer for Vegetarian Society of Singapore. Having worked in the life science research sector for 10 years, he has developed a keen interest in preventive medicine and health science
排毒已渐渐地成为现代生活的潮流,可是有多少人真正了解排毒背后的原理与准则?
《排毒与健康》实习坊将为您一一解说排毒的定义、原理、技术、运用、效率、安全等相关的正确观念。《排毒与健康》课堂上所授予的知识将让大家理解有效排毒所须要的各方面配合,体会排毒哲理所影射的生活习惯调整和认识真正排毒所牵连的健康饮食方法。实习坊中,除了让大家当场亲身体验一天的排毒过程,指导老师会跟大家分享"简易周末排毒"程序;仔细分析每一个步骤,好让大家能够更容易地把排毒落实在生活里头。
指导老师简介:
黄其铫先生是一名生物工艺学士(Bach of Biotechnology)。毕业于澳洲弗林德斯大学(Flinders University of Adelaide);从事生物医学研究10年。过去曾在国立癌症中心研究胃癌;曾经在基因组研究院任研究助理,专研干细胞。黄先生因此对医药保健颇有认知;尤其对预防医学保健特别关注。近年来,黄先生为了推广保健意识,曾担任新加坡素食协会和轻安村慈善教育基金会委员;也积极给多个慈善福利团体办健康讲座、健康烹饪班和有机旅游;多次参与本地电台健康饮食节目和访问。
English Class
Date: 21 May 2018 (Mon)
Time: 8.30 am – 5 pm
Course Offering: $180 per person (participants need to inform if they have any prior medical conditions)
Venue: Awareness Hub, Blk 231 Bain Street #03-15 Bras Basah Complex Singapore 180231
中文班
日期:2018年9月24日 (星期一)
时间:早上8点30分至下午5点
学费:每人 $180
地点:普觉坊 | Blk 231, Bain Street, #03-15, Bras Basah Complex
Note: * Participants need to inform if they have any prior medical conditions
注:* 参加者如有病历必须预先通知