Vegetarian Cooking Series 素食烹饪系列 2019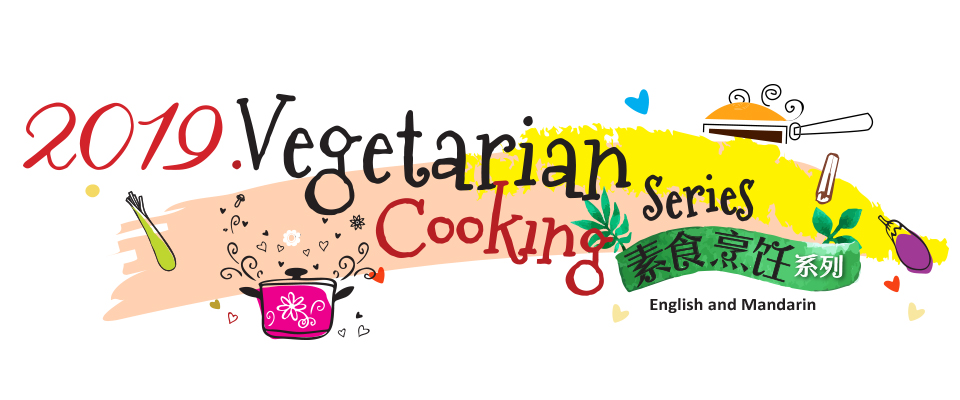 A perfect dish can be described in three words – simple, tasty and fragrant. Learn how to whip up delectable vegetarian dishes such as kueh pisang, carrot cake, mini pizza and more through our 2019 Vegetarian Cooking Series!
一份完美的料理可以简单的三句词汇为形容:朴素、可口及喷香。借由我们的2019素食烹饪系列,学习如何烹制美味的素食料理,如香蕉糕点、萝卜糕、烤迷你无蛋无奶比萨等,保证您一定欲罷不能!
Instructor(导师):
Vinitha Ang is a Registered Nurse with more than 20 years of experience in nursing and allied health care profession. She is also trained in nutrition and psychology with a Master's Degree in Healthcare Management. Vinitha has formerly operated a vegan café with organic retail business for five years, and has been regularly conducting vegan culinary, baking and nutrition classes since 2008.
Triple DIY Vegan NutriMeal: NutriRaw, NutriCook, NutriBake - 三种自制素食营养餐:营养素生食,营养烹饪,营养烘焙
13 Jan 2019 (Sun) | 1.00 pm – 6.30 pm ( Registration closing on 4 January 2019! )
Fee / 费用: $128
*NEW HANDS-ON LESSON* – *新实习课程*
1. 5-spice salad tofu | 五香沙拉豆腐
2. Vegan mini pizza | 迷你无蛋无奶比萨
3. Tricolor salad soba in 2 types of seasonings | 三色沙拉荞麦面 (2种调味料)
4. No-bake macaroon | 无需烘烤马卡龙
Healing your digestive system through Vegan NutriMeals - 通过素食营养餐愈合消化系统
3 March 2019 (Sun) | 3.00 pm – 6.30 pm
Fee / 费用: $80

1. Digestive health (nutrition theory) | 消化系统健康(营养理论)
2. Detox rice bowl | 排毒饭
3. Digestive juice/soup | 消化蔬果汁/ 汤
Singapore hawker fare I (vegan style) - 新加坡小贩美食 I(素食版)
21 Apr 2019 (Sun) | 3.00 pm – 6.30 pm
Fee / 费用: $88

1. Vegetarian bak kut teh (no mock meat) | 素食肉骨茶(无素肉)
2. No-flour NutriVegan popiah (some hands-on) | 无面粉素食薄饼(部分实习)
3. Chia chia jelly Chia | 种子果冻
Indonesian vegan cuisine - 印尼素食料理
5 May 2019 (Sun) | 3.00 pm – 6.30 pm
Fee / 费用: $88

1. Vegetarian assam pedas | 辣阿萨姆素食
2. Nasi kunyit (turmeric brown rice) | 黄姜糙米饭
3. No-fry kueh pisang (some hands-on) | 无炸香蕉糕点(部分实习)
Singapore hawker fare II (vegan style) - 新加坡小贩美食II(素食版)
2 Jun 2019 (Sun) | 3.00 pm – 6.30 pm
Fee / 费用: $88

1. Wholegrain vegetarian fishball noodle (no mock fish and some hands-on) | 全谷素鱼丸面条(无素鱼及部分实习)
2. Brown rice carrot cake | 糙米萝卜糕
3. NutriVegan coleslaw | 素食凉拌卷心菜
Date: Referring to above
Time: Referring to above
Fee: Referring to above
Venue 地点: Awareness Hub (普觉坊) | Blk 231 Bain Street #03-15 Bras Basah Complex Singapore 180231
To Register 报名:
• Online Registration (上网报名)
Other Methods To Register:
• Reception Office @ KMSPKS (接待处) | 9am – 4pm
• Awareness Hub (普觉坊) | 11.30am – 6pm
Enquiry 查询详情:
Tel: 6336 5067 | Email: awarenesshub@kmspks.org | Poster
Registration End Date 报名截止日期:
One week before each course commences or when fully registered.
在课程开始前一周或当名额已满。