Zentangle Series 2020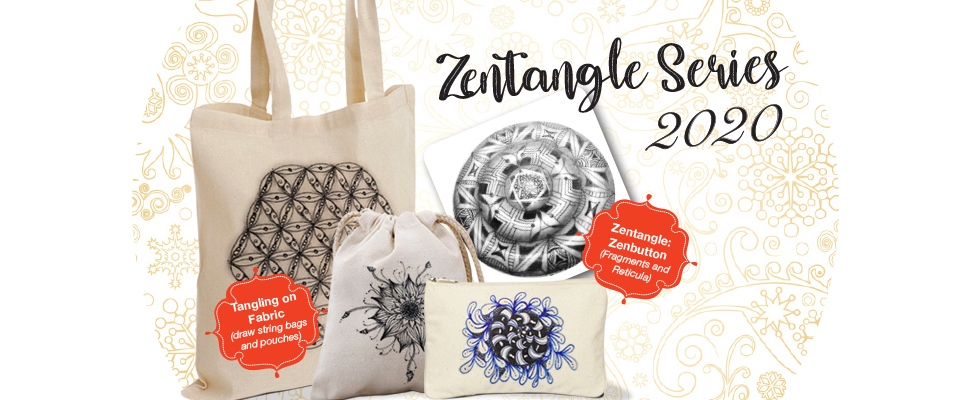 Reflect your true spirit! Let your inner self guide you through developing elegant lines and shapes.
Zentangle is a form of art therapy that promotes relaxation and self discovery.
Create unlimited designs and patterns through four basic strokes of dot, line, curve, and ring. There is no need for erasers, drawing, or pre-planning. You don't need an art background, if you can hold a pen, you can do Zentangle. Try it out now.
Instructor
Dr Chiang Wai Fong (Certified Zentangle Teacher)
Dr Chiang Wai Fong has a PhD in linguistic anthropology. She is currently an independent researcher/scholar. She is also a narrative therapist and practices several therapeutic modalities for stress management and positive identity building. She is a certified Zentangle Instructor (Batch 20). She has been teaching Zentangle since 2015, her students range from ages 7 to 70. She incorporates meditation and self-exploration in her lessons to help students discover and realise their creativity and potential.
Tangling on Fabric (draw string bags and pouches)
Want to personalise a bag with your favourite words or quotes on it?
Learn how to embed words or characters with tangle patterns now.
This workshop is suitable for both beginner and advanced tanglers.
Date : 13 Sep 2020 (Sun)
Time : 2pm to 5pm
Fee : $70 per person (an additional $18 material fee for beginners or an additional $8 material fee for those with own basic kit is payable to the instructor)
Venue : Awareness Hub | Blk 231, Bain Street #03-39, Bras Basah Complex, Singapore 180231
Zentangle: Zenbutton (Fragments and Reticula)
It's play time!
Explore with a simple tangle by turning it upside down or laying them side by side, you will realise a simple image can have many perspectives.
Be captivated by different amazing designs produced by simple patterns.
Date: 4 October 2020 (Sun)
Time: 1pm to 4pm
Fee: $65 per person (an additional $15 material fee is payable to the instructor; past students are to bring their basic kit)
Venue : Awareness Hub | Blk 231, Bain Street #03-39, Bras Basah Complex, Singapore 180231