3-day Vipassana Retreat with Sayadaw Tejaniya (REGISTRATION IS FULL)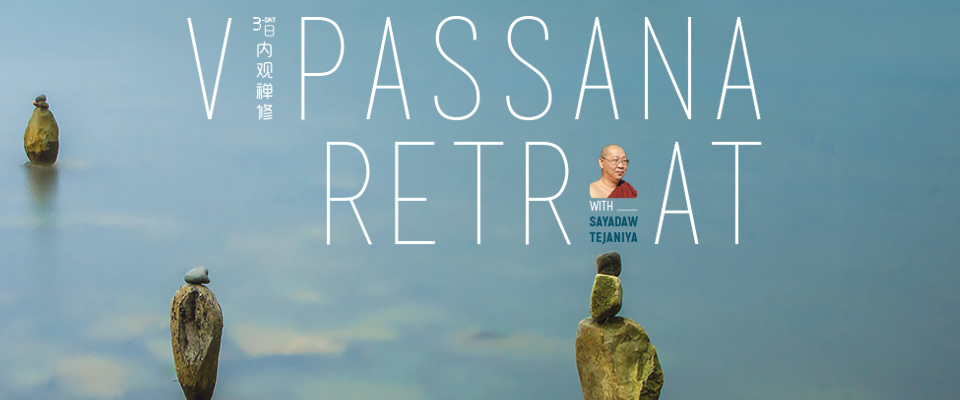 Sayadaw's teaching differs from the general Vipassana meditation that is practised in Myanmar. His style of teaching and approach is dynamic, an evolving process based on his own experiences and his recognition of difficulties yogis face in their practice. He believes that awareness must first be directed to the presence of defilements in the meditating mind.
Sayadaw does not emphasise any specific method to practise meditation. He believes that it is more important that the mind is aware with understanding while meditating. Sayadaw aims to help practitioners possess skills that they can apply in their daily lives in the absence of a teacher.
Note: To get the most benefit, participants are recommended to read "Dhamma Everywhere", as well as attempt to be mindful daily at home or at work, at least a week to a month before the retreat. The books are free online at ashintejaniya.org.
Sayadaw U Tejaniya
Sayadaw U Tejaniya began his Buddhist training as a young teenager in Myanmar under the late Shwe Oo Min Sayadaw (1913–2002). After a career in business and life as a householder, he has become a permanent monk since 1996. He teaches meditation at Shwe Oo Min Dhamma Sukha Forest Meditation Center in Yangon, Myanmar.
Sayadaw's relaxed demeanour and easy sense of humour can belie a commitment to awareness that he encourages his students to apply in every aspect of their lives. His earlier life as a householder gives him a rare insight into the challenges faced by his lay students. His books, "Don't Look Down on the Defilements, They Will Laugh at You", "Awareness alone is not Enough" and "Dhamma Everywhere: Welcoming each Moment with Awareness+Wisdom" aptly characterise his teachings—accessible and true to the traditional teachings of the Buddha.
德嘉尼亚禅师的教法不同于缅甸一般的内观禅修行方法。禅师的教学风格和方法是非常灵活的,建立在他的个人经验及他对诸多禅修者在修行时所面临的困难的认识之上,不断发展。他认为要先将觉知导向禅修时心中现前的烦恼,方可受益。
禅师不侧重于任何特定的禅修方式。他认为在禅修时心保持带着理解的觉知更重要。禅师希望帮助禅修者获得技巧,在没有老师指导的日常生活中也能应用。
注:我们鼓励参加者在禅修营之前阅读《处处皆佛法》,并在家或办公室修持至少一星期至一个月(每日)的正念练习,以在禅修营获得最大的利益。《处处皆佛法》可从网上免费下载:ashintejaniya.org。
德加尼亚禅师
德加尼亚禅师 (Sayadaw U Tejaniya) 1962年出生于缅甸仰光的华侨家庭。自十三、四岁起跟师父雪乌敏禅师学法。禅师最初以在家商人身份进行禅修而取得很大的进步及利益, 并克服了自身严重的抑郁症,他修习和教导的禅修方法是直接观察每个当下的身心现象,着重于培养带智慧的觉知和在日常生活中的持续修习。
36岁时,禅师正式跟随雪乌敏长老出家,修行及学法,长老入灭后,禅师成为仰光雪乌敏禅修中心教授四念处的禅师,禅师悲智双运,在缅甸及世界各地尽力授法,为众多的修心者带来极大的法益。
Jointly organised (联合主办) with Ruwan Buddhist Society
Date/日期:
。3 to 5 Aug 2018 (Fri – Sun) / Stay-out retreat
。2018年8月3日至5日(星期五至日)/ 无留宿
Time/时间:
。9am to 5pm
。早上9时至下午5时
Fee/报名费:
。$70 per person
。每人$70
Venue 地点: Venerable Hong Choon Memorial Hall | Level 4 | Hall of No Form
宏船老和尚纪念堂 | 4楼 | 无相殿
To Register / 报名方式: (Registration Is Full)
• Online Registration
• 上网报名
Other Methods To Register 其它报名方式:
• Reception Office 接待处 | 9.00am – 4.00pm |早上9时至下午4时
• (注 / Note: Please bring along your NRIC for registration – 请携带身份证报名)
Closing Date 截止日期: 20 July 2018 or when fully registered | 2018年7月20日或当报名名额已满
Enquiry 询问: Tel 联系电话: 6849 5300 | Email 邮件: sed@kmspks.org
Note: * Stay-out retreat
注: * 无留宿
You might also be interested in.. 您可能喜欢…