5-day Vipassana Retreat with Sayadaw U Pyinnyarnanda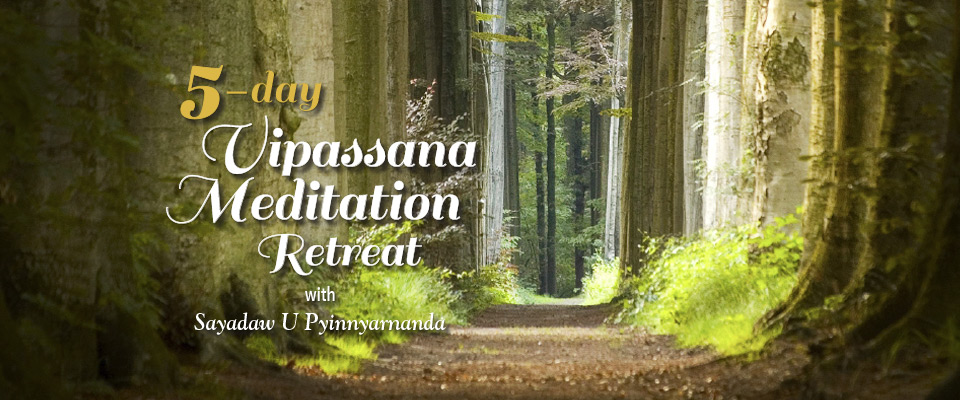 Mindfulness meditation is the one way for the purification of beings, for the overcoming of sorrow and lamentation, for the extinguishment of suffering and grief, for walking on the path of truth, and for the realisation of nirvana.
Buddha taught mindfulness meditation in the Maha Satipatthana Sutra precisely. For a meditator, It is important to understand how to practise meditation in accordance to the guidance of the Maha Satipatthana Sutra. Join Sayadaw U Pyinnyarnanda in this 5-day retreat to master the art of mindfulness meditation, and begin the journey to enlightenment.
Important note:
The practice is in accordance to Master Teacher Chanmyay Sayadawgyi of the Mahasi Tradition
Participants are required to abide by the Nine Conditions during the retreat.
More details at http://bit.do/9plink

Instructor: Sayadaw U Pyinnyarnanda
Born in Myanmar in 1957, Sayadaw U Pyinnyarnanda is ordained as a Bhikkhu in 1976 and has undergone intensive studies in Buddhism, attaining the Visudaryonevonsaparia Dhamacariya title given by the government.
In 1990, Sayadaw was practicing Vipassana for almost four months under the guidance of Chanmyay Sayadawgyi. In 1995, Sayadaw became a meditation teacher at Chanmyay Yeiktha Meditation Centre, Hmawbi (Myanmar), and in 1996, a meditation teacher at retreat with Chanmyay Sayadawgyi in Thailand. In 1997, Sayadaw U Pyinnyananda becomes a meditation teacher at Chanmyay Satipahtarna Vihar in South Africa for four years. Thereafter, he went on Dharma missions to other countries such as Thailand, Malaysia, Singapore, Indonesia, The USA, South Africa, and South Korea.
Currently, Sayadaw is teaching meditation to both local and foreign students at Chanmyay Yeiktha Meditation Centre, Pyin Oo Lwin, Myanmar. He is highly respected by monks, novices and lay people for his calm and peaceful demeanour.
In collaboration with:
Date(s): 1 to 5 July 2019 (Mon-Fri) / Stay-out retreat
Time: 8am to 8pm
Fee: $150 per person
Reporting Venue: Venerable Hong Choon Memorial Hall | Level 1 | Ju Yuan Fang | Meeting Point A
To Register:
Online Registration ~
• http://bit.do/jul5dmr
Other Methods To Register:
• Reception Office @ KMSPKS | 9am – 4pm
• (Note: Please bring along your NRIC for registration)
Registration Deadline: 22 May 2019 or when fully registered

Enquiry: 6849 5300 | sed@kmspks.org | Poster