School Holidays Nagomi Art Workshops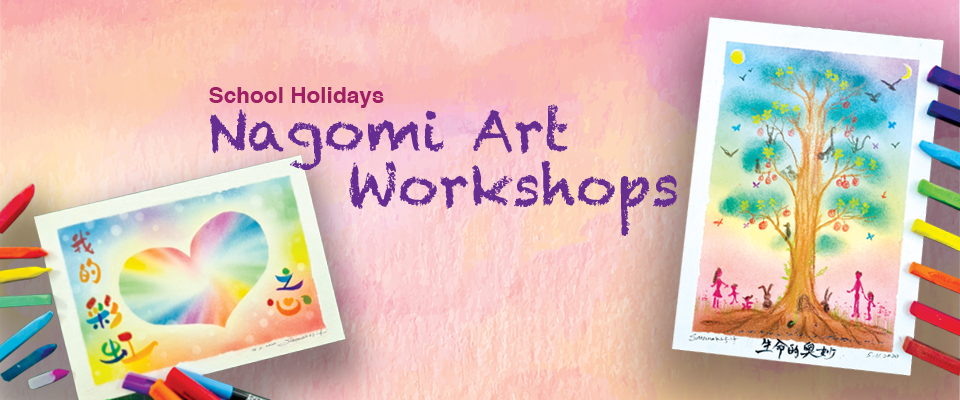 Invigorate your child's creativity as they express themselves through the unique Japanese art of painting with their fingers.
Allow your child to discover the vibrant and colourful world of Pastel Nagomi Art through engaging storytelling and illustrations by Sarana Khoo, an experienced Pastel Nagomi Art teacher.
"Colours heal. The process of painting carries the therapeutic qualities of the colours that will nurture the inner world." – Sarana Khoo, Art Educator/Facilitator
---
Notes:
1. Younger children are encouraged to be accompanied by an older child or adult for painting and technical support.
2. Parents or caregivers will need to help children in preparing art materials and setting up the workspace for class.
3. Please ensure the workspace is quiet and calm for the child during class.
4. Please ensure that the internet connection is stable to prevent disruption during class.
---
Instructor: Ms Sarana Khoo, Advanced Instructor of Japan Pastel Hope and Art Association (JPHAA)
Ms Khoo has accumulated the following achievements during her long career:
• Certified Children's Art teacher by Top-Art School of Art, 2008
• JPHAA (Japan Pastel Hope and Art Association) Advanced Instructor, 2014-2015
• (Japan) Flower of Crystal Art Academy Certified Teacher and Partner, 2016
• Japan Pastelia-Syo Certified Instructor, 2016
• Founder of a children's art studio, since 2012
• Intuitive Artist / Pastel Artist
Ages:

Class:

Description:

Date:

Time:

6 to 9

The Seed of Life

"Take care of me, and I will blossom." Watch what the seed grows into!

8 Dec 2021 (Wed)

10am to 12pm

10 to 12

Rainbow Heart

What is the secret of each colour? Let the Rainbow whisper to you and keep the treasures in your heart.

1pm to 3pm

6 to 9

May I be well, May you be happy

"Let our heart be kind. Let love lead the way. Everything will be ok."

15 Dec 2021 (Wed)

10am to 12pm

10 to 12

The Songs of Nature

When the wind blows, the flowers sing. The river hums, and the animals dance. Let us pause and listen to songs of nature.

1pm to 3pm
| | |
| --- | --- |
| Venue: | Online ZOOM class |
| Registration Fee: | $40 per session or $70 for 2 sessions |
| Material fee and starter kit payable to the instructor: | $15 per set (payable to instructor) |