Vesak 2023 programmes at
Kong Meng San Phor Kark See Monastery
光明山普觉禅寺 2023卫塞特备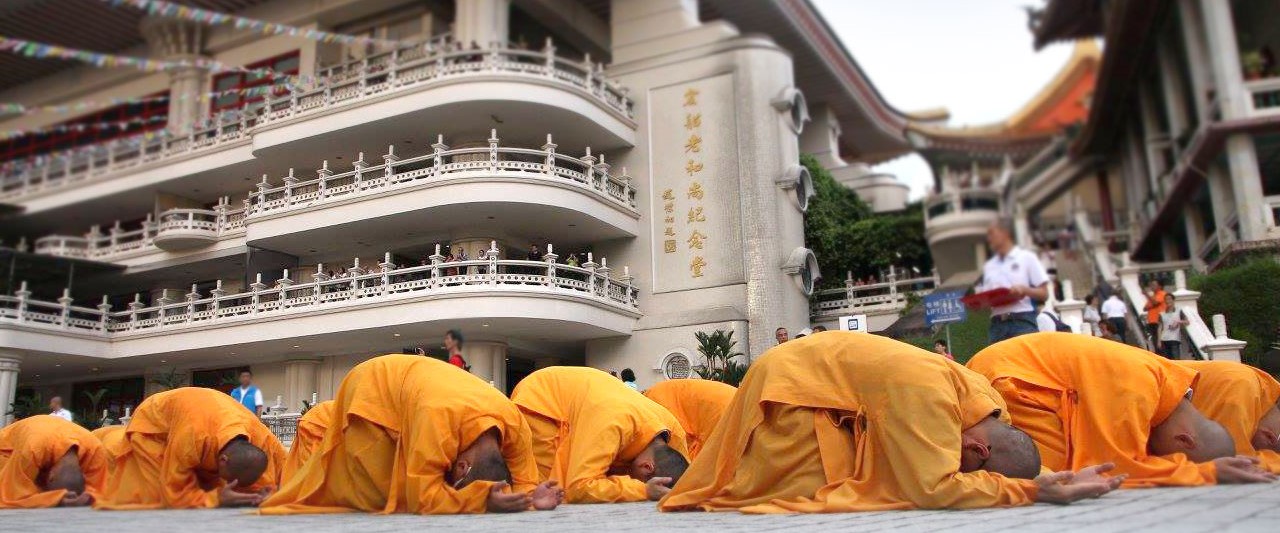 3-Step, 1-Bow Ceremony 三步一拜
In this ceremony, devotees usually line up before sunrise to meditatively circumambulate the perimeter of the temple, bowing once every three steps, while chanting mantras or the name of the Buddha in praise of Him. Upon every prostration, the Buddha can be visualised to stand before one's palms, which are opened to receive His teachings. The open palms also symbolise lotuses (our minds) blossoming into purity. (Though lotus flowers' roots are in the "mud of defilements", they blossom untainted.) Every prostration is thus the paying of respects to the Buddha (or the countless Buddhas and Bodhisattvas). This practice helps to purify the mind, humble the ego and lessen obstacles along the spiritual path as one repents past misdeeds and aspires towards spiritual improvement. With mindfulness of one's body, speech and mind during the practice, concentration and calmness can be attained. As the ceremony is long, it reminds one of the long and occasionally difficult journey towards Enlightenment. But it also serves to remind us that as long as we are determined, all difficulties can be overcome. Perseverance in completing the practice despite its difficulties also helps to strengthen our faith in the Buddha and His teaching to lead us towards Enlightenment. The break of dawn at the end of the ceremony represents the light of wisdom dispelling the darkness of ignorance as one advances towards Enlightenment.
在这个仪式中,参加者通常在日出前排列成行,环绕寺院四周三步一拜,同时持念咒语或称念佛号礼赞佛陀。礼拜时,我们可以观想佛陀站立在前方,我们张开双手迎接他。双手张开犹如莲花盛开象征着清净(因莲花出污泥而不染),每一拜皆是对佛陀的礼敬(或对无数佛及菩萨的礼敬)。这样的修持能够帮助我们净化心灵,培养谦卑,减少心灵修持上的障碍,通过礼拜,我们忏悔以往的恶业并激励自己在心灵上要努力提升。以清净的身、语、意礼拜,让我们心专与平静。由于仪式冗长,它提醒我们成佛之道的漫长与艰难。然而,它也提醒我们只要有决心,所有的困难皆可一一克服。虽然要完成三步一拜并不容易,但是以坚定的毅力来圆满这个修持,可以加强我们迈向佛道的信念。仪式于黎明前完成,最先冲破黑暗曙光象征着在修行的解脱道上,智慧之光能够驱除无明的黑暗。
1 June 2023 (Thur), 5.30pm to 2 June 2023 (Fri), 7am
In front of Hall of Great Strength | 大雄宝殿前
注: 参加券先到先得。每人只限领取2张参加券。本寺不允许彻夜排队。
NOTE: Kindly note that tickets are given out on a first-come-first-served basis. Limited to two tickets per person. No overnight queuing is allowed.
Distribution of tickets 参加券分发详情
Date: 21 May (Sun)
Time: 12pm
Venue: Hall of No Form 无相殿
* 如果您没有参加券,您可以在6月1日晚上11时至6月2日上午7时之间于无相殿排队参加公开组。
For non-ticket holders, you may join the public group on 1 June, 11pm to 2 June, 7am. Queue starts at Hall of No Form.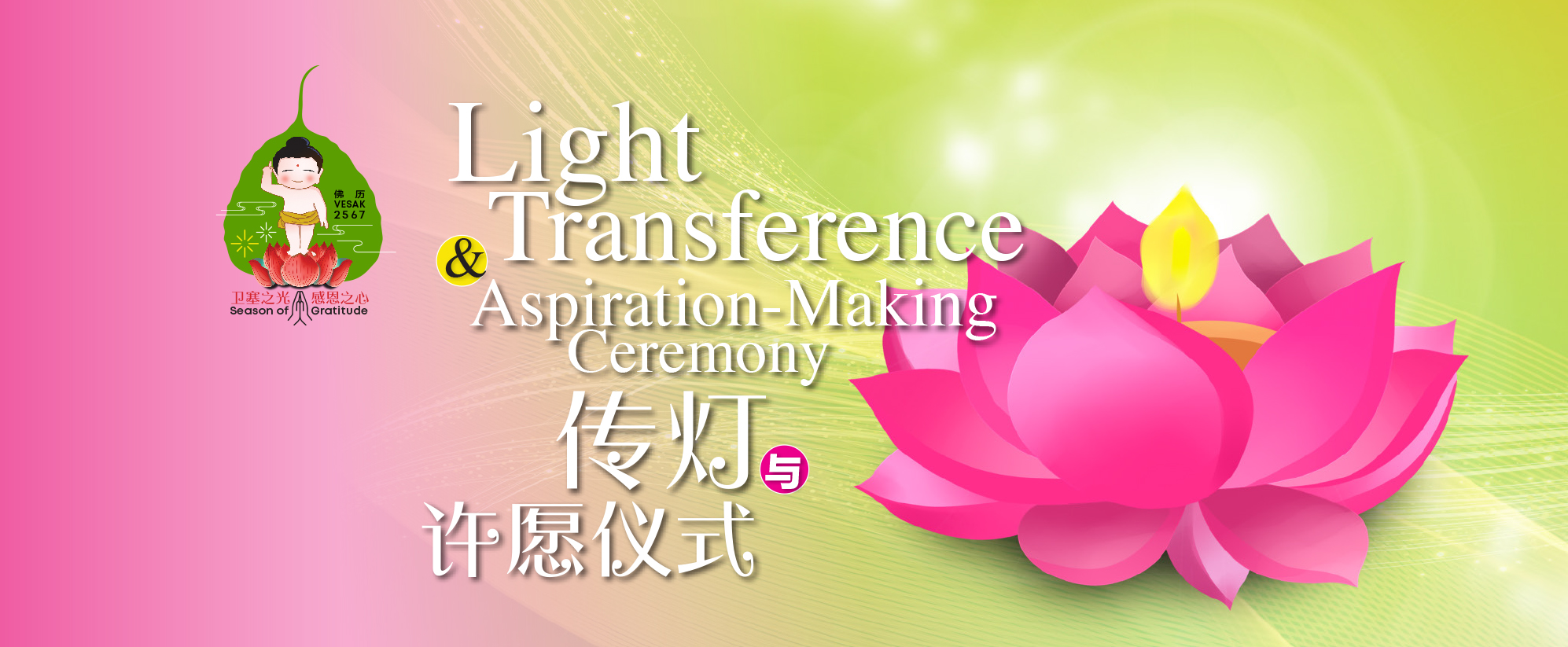 Light Transference & Aspiration-Making Ceremony 传灯与许愿仪式
In this ceremony, devotees hold a lighted candle after sunset, as they pave around the perimeter of a temple or a holy object in walking meditation. Mantras or the Buddha's name are chanted while doing so. The ceremony represents the passing of the light of wisdom (sharing of the truth) to every direction of the world to dispel the darkness of ignorance. On a personal level, it has the significance of lighting one's inner lamp of wisdom. The perpetual passing on of light to countless others without one's own flame dying symbolises that wisdom can be shared without loss on one's part. In the ceremony, it is most inspiring to see a single flame illuminate a sea of darkness to become an ocean of lights bringing brilliance to one another.
在传灯仪式中,佛教徒在日落后,手持灯烛排列成行,一面环绕着寺院或圣物行走,一面持咒或赞佛。代表将智慧之光传送到世界各个角落以去除无明及黑暗。在个人方面,则是指点燃自己心中的智慧之光。在仪式中,信徒们会将手中的烛光传给身旁的人,然后灯灯相续,不断地传下去,手中的烛光不会因传给他人而减弱或消失,这表示智慧是可以与他人分享而不会丧失的。在仪式中,最振奋人心的是看到一点烛光如何在黑暗中转变为光亮的火海,让在场的每一个人皆置身于光明之中。
20 May 2023 (Sat) | 6pm onwards (从傍晚6时)
Hall of Great Compassion | 大悲殿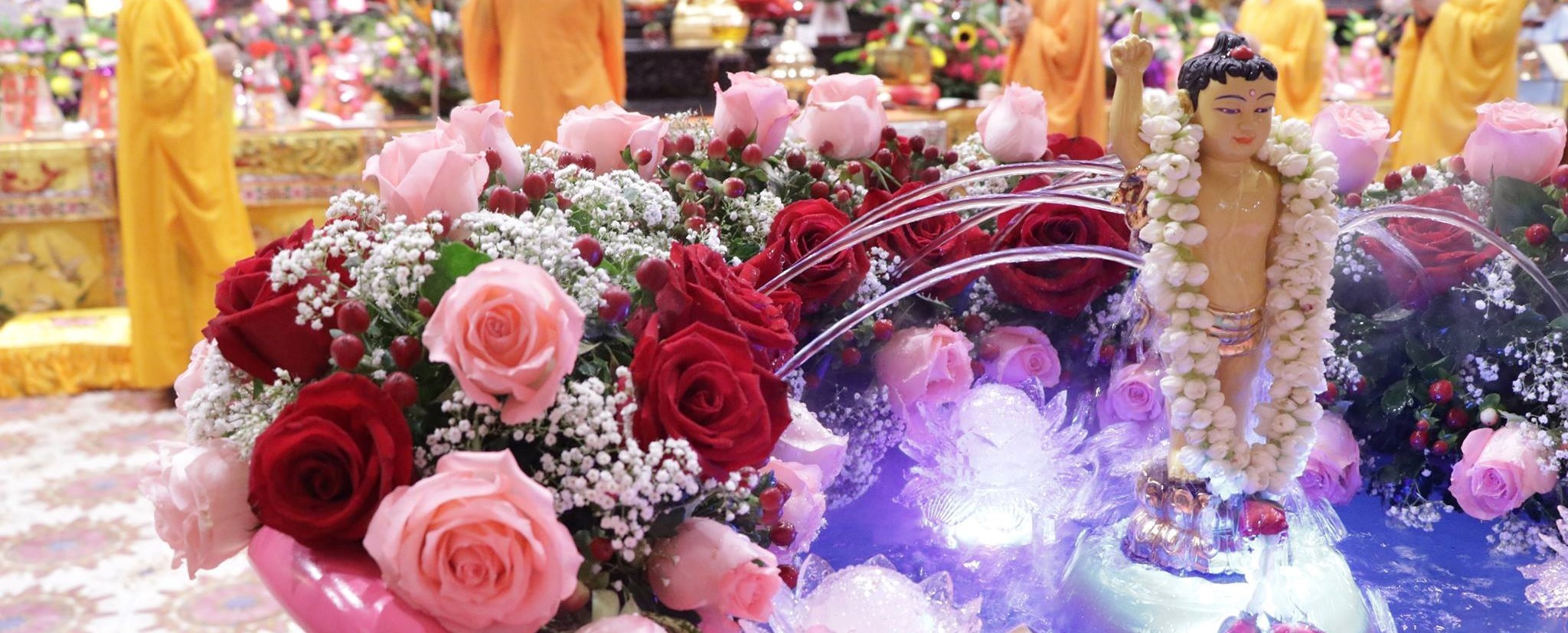 Bathing of Prince Siddhartha 浴佛
The ceremony of Bathing of Prince Siddhartha (the Buddha-to-be) re-enacts the Prince being bathed by celestial dragons at birth. Perfumed water in a basin strewn with flowers is scooped with a ladle, and is mindfully poured over the crown of the status of baby Prince Siddhartha. This expresses the determination to purify one's body and mind, to "wash away" our spiritual defilements, so as to uncover our pure Buddha-nature, just as the Buddha did.
将悉达多太子的圣像置于充满香花及香水的盆里,用勺子掬起净水淋在佛像上,为佛沐浴的仪式称为浴佛。这重新扮演了悉达多太子诞生时被天龙沐浴的情景,也表达了我们净化我们的恶业之意。如同佛陀发掘自身的佛性,这仪式的意义也在于发掘我们自身清净的佛性。
26 May 2023 (Fri) | 6am to 2pm
Hall of Great Strength 大雄宝殿
1 June 2023 (Thur), 6pm to 2 June 2023 (Fri), 5pm
Hall of Great Compassion 大悲殿

1 June 2023 (Thur), 6.45pm to 2 June 2023 (Fri), 4pm
Prajna Meditation Hall, Level 1 | 般若禅堂, 1 楼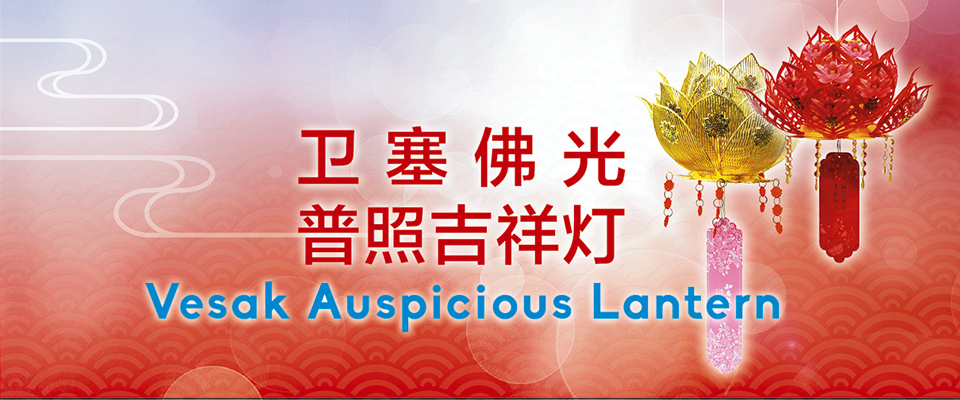 Vesak Auspicious Lantern 卫塞佛光普照吉祥灯
The offering of light represents light of wisdom dispelling darkness of ignorance on the path towards Enlightenment. Make a light offering in celebration of Vesak to illuminate the brilliance of wisdom within us.
May the Buddha's light shed wisdom, peace, and happiness upon all sentient beings.
供灯提醒我们:智慧之光可以去除迈向解脱道的无明黑暗。这激励我们去寻求究竟的智慧。
一盏灯,点万灯;断除烦恼,引领众生。无尽灯,无尽恩;灯灯相续,智慧万分。
这个卫塞节,在佛前供一盏明灯,祈愿 天下锦绣太平 国家繁荣昌盛,合家平安健康 众生福慧增长
20 May to 4 June 2023
Hall of Great Compassion | 大悲殿
Hall of Universal Brightness | 光明殿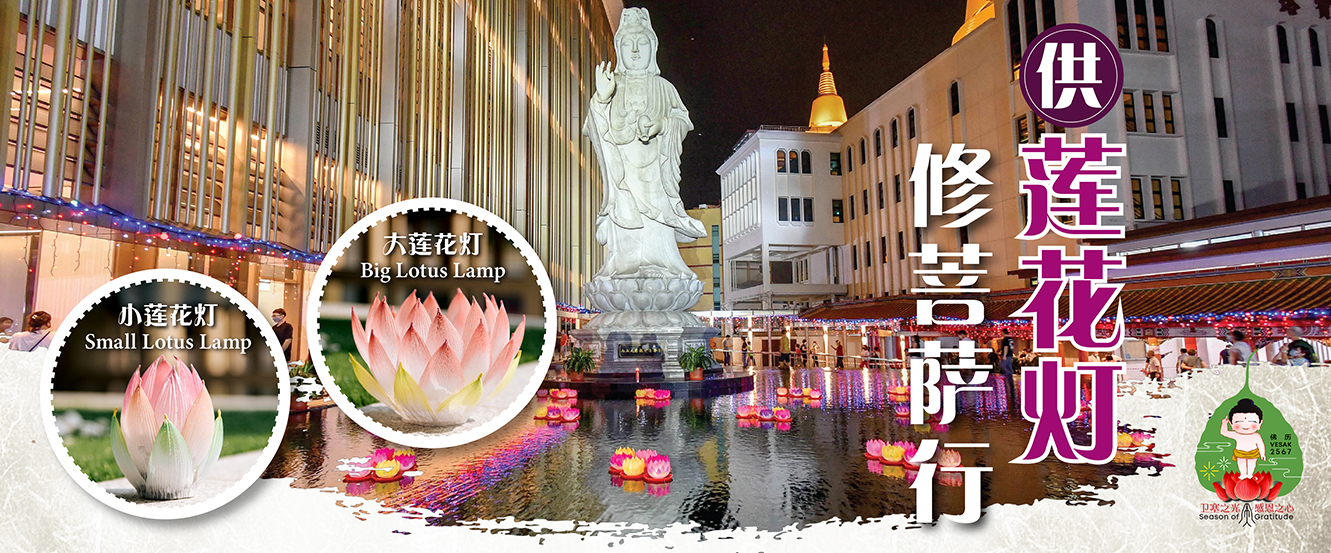 Lotus Lamp Offering 供莲花灯 修菩萨行
"Unfettered like a lotus flower, constantly immersed in the serenity of Buddhist practice."
This Vesak Day, kindle a lotus lamp and bask in the radiance of our true nature.
"不著世间如莲花,常善入于寂行"。
这个卫塞节,点一盏莲花灯,点亮人人的自性光明。
1 June, 7pm to 2 June 2023, 2.30pm
Avalokiteshvara Bodhisattva Pond, Prajna Meditation Hall | 般若禅堂观音池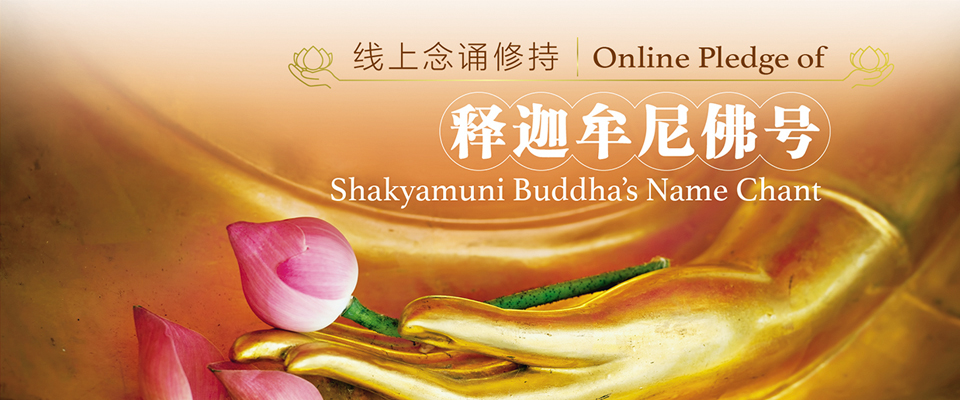 Online Pledge of Shakyamuni Buddha's Name Chant 释迦牟尼佛号 线上念诵修持
In the coming season of Vesak, we invite you to join us in the online pledge of Shakyamuni Buddha chant from 19 May to 17 June 2023. One who recites "Na Mo Ben Shi Shi Jia Mo Ni Fo" with a sincere and pious heart will receive infinite merits and boundless blessings.
诚邀大众在2023年5月19日至6月17日期间参与本寺的"释迦牟尼佛号 线上念诵修持"。所谓"念佛一句,罪灭河沙;礼佛一拜,福增无量"。常念佛号会受到诸佛力量的护念与加持,不恐惧、不退转。让我们以一颗虔诚恭敬的心念诵佛号。感受无限的欢喜与吉祥!欢迎递交您的念诵计数。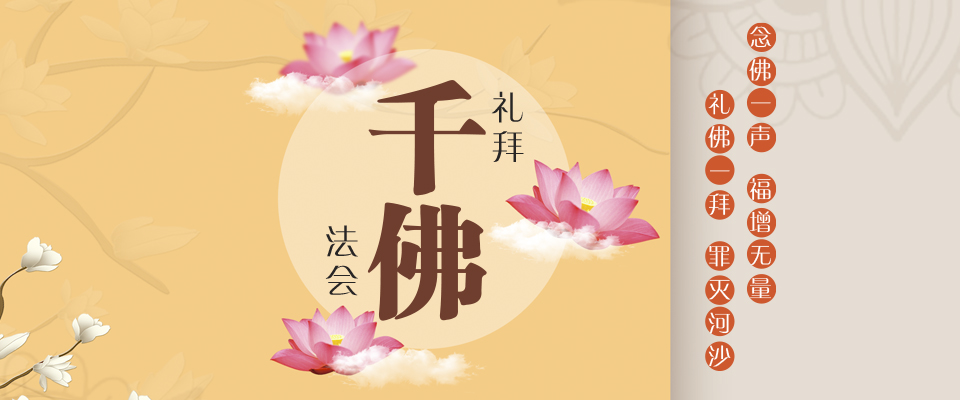 Thousand Buddhas Repentance Puja 礼拜千佛
Let us join in the Thousand Buddha Ceremony, where we pay homage to the wise and ancient Buddhas, praying for a good fortune, wisdom, and blessings."
"念佛一声,福增无量;礼佛一拜,罪灭河沙。"
一同参与礼拜千佛法会,藉着礼拜贤劫千佛,祈愿吉祥如意、福慧增上。
2 June (Fri) | 8.30am – 4pm
Hall of Great Compassion | 大悲殿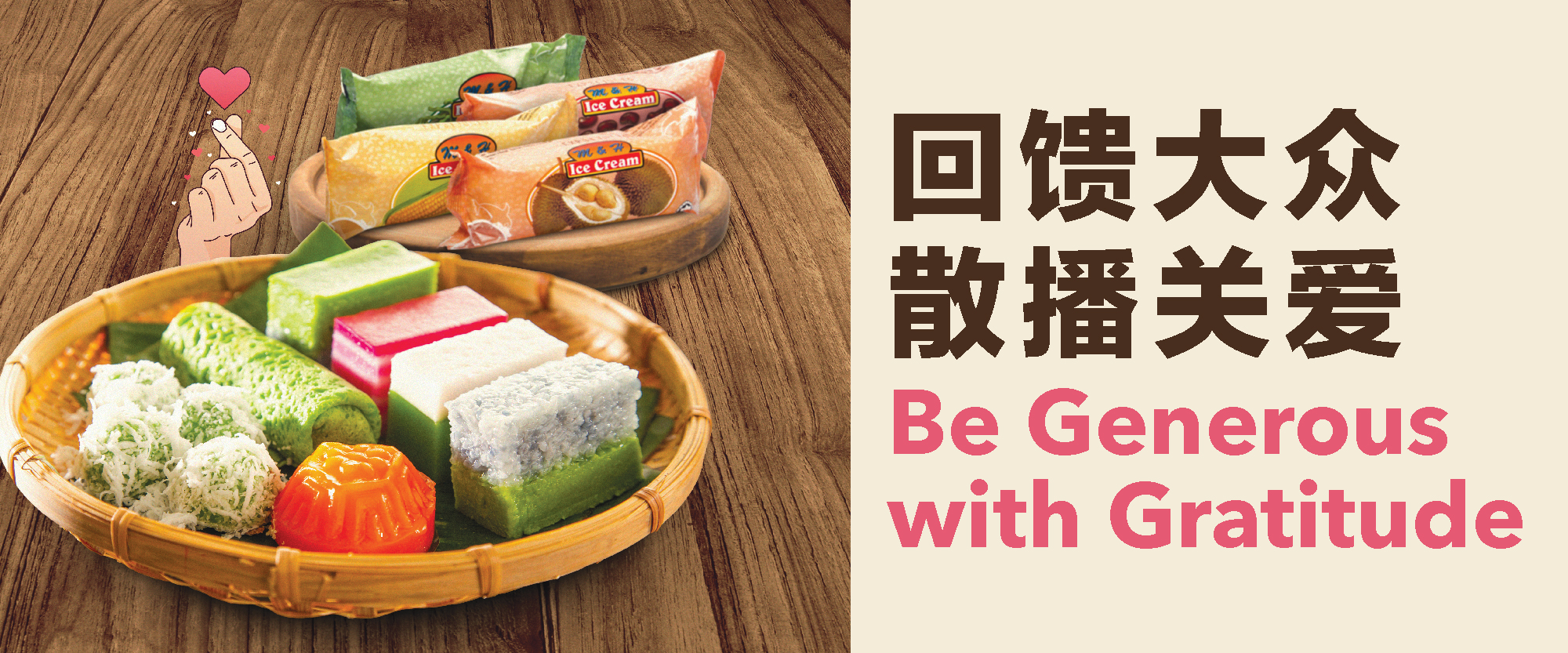 Be Generous with Gratitude 回馈大众 散播关爱
Every Vesak Day, Kong Meng San Phor Kark See Monastery gives back to its devotees through free kueh and ice cream distribution. We are seeking your kind support to share this generous cause with us this year. You may wish to donate at our Donation Box in Dining Hall. The donation drive ends on 28 May 2023. We sincerely thank you for your kind donation and wish you a meaningful Vesak Day in advance.
逢卫塞节,光明山普觉禅寺都会分派免费糕点与雪糕回馈信众。今年,希望大家可以与本寺齐心协力,共同为这项有意义的活动捐献。信众可在斋堂的福田箱捐献您的善心。筹款活动将于5月28日结束。本寺在此对您的捐助表示感谢,也祝您有个愉快的卫塞节!
From now until 28 May
Dining Hall | 斋堂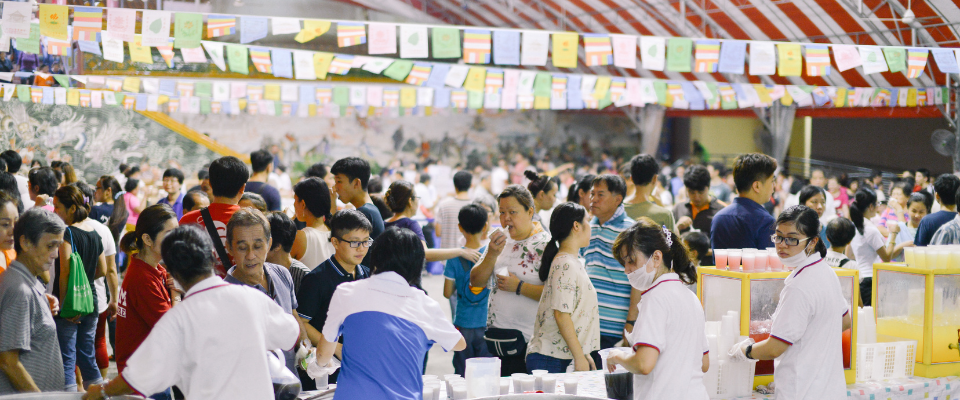 Vegetarian Food Fair & Charity Booth 素食慈善义卖会
Indulge in the mouth-watering, guilt-free vegetarian delicacies and immerse yourself in the festive spirit at the Vesak Vegetarian Food Fair. Treat yourself to cuisines such as mango sticky rice, bubble tea, and popular crowd favourites like laksa and crispy fried dumplings.
我们将在卫塞节的素食义卖会中为大家带来众人所喜爱的芒果糯米饭、泡泡茶,同时还有令人期待的素叻沙、煎饺等美食。欢迎至我们的美食街享用令人垂涎的素食!
1 June 2023 (Thur), 3pm – 11pm
2 June 2023 (Fri), 9am – 4pm
Long Corridor, Hall of Universal Brightness & In Front of Hall of Pureland | 长廊、光明殿与净土堂前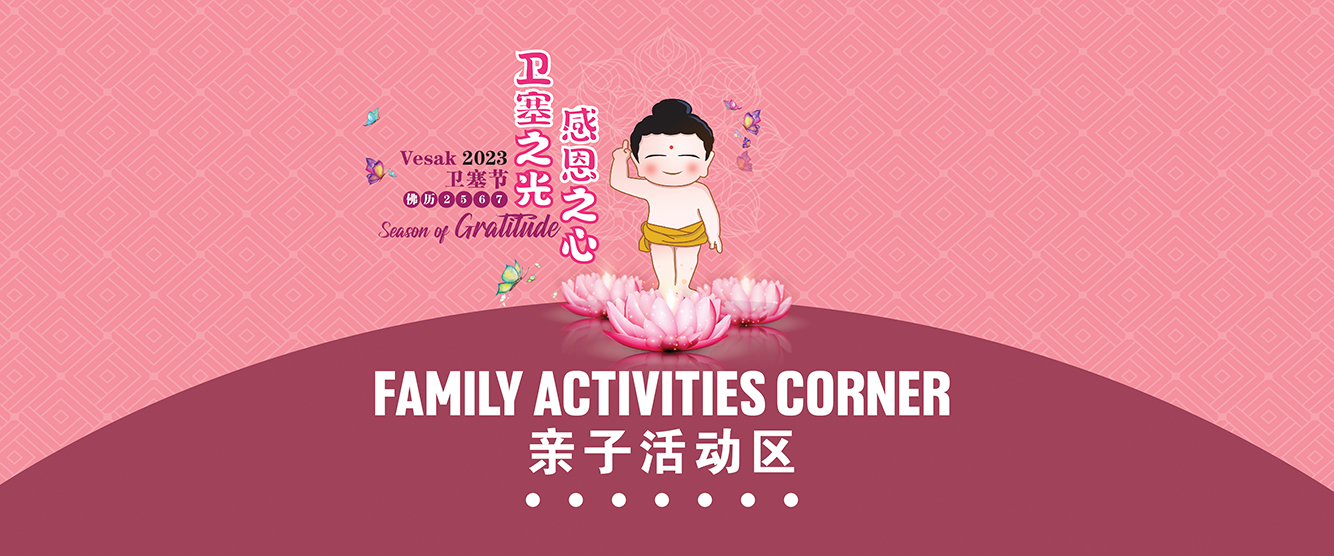 Family & Activities Corner 亲子活动区
Take a well-deserved break from your hectic routine and spend quality time with your loved ones in a mindful and fulfilling way. Join us in a variety of workshop and activities such as sutra writing, balloon sculpting, face painting, and yoga to nourish your body and mind, providing the perfect opportunity to recharge and reflect on the true meaning of Vesak.
这个卫塞节,邀您从忙碌的日常生活中抽出一些时间前来参加心经抄写、气球雕塑、面部彩绘和瑜伽等活动,与家人共度正念时光,让身心得到充分的滋养。
2 June 2023 (Fri), 10am – 4pm
Venerable Hong Choon Memorial Hall | Level 3 & 4
宏船老和尚纪念堂 | 3楼与4楼
Photography Competition 摄影比赛
Light • Life 光 • 生命
Join us in celebrating Vesak Day beyond its traditional festivities at Kong Meng San Phor Kark See Monastery by capturing its diverse cultural, social, and spiritual significance through your photography.
光明山普觉禅寺诚邀您共赴卫塞节盛会同庆佛诞。让我们通过摄影,沉浸于无上的法乐之中,体验佛教千年文化之美,见证佛家精神的恒远传承。
19 May 2023 to 15 June 2023
2023年5月19日 2023年6月15日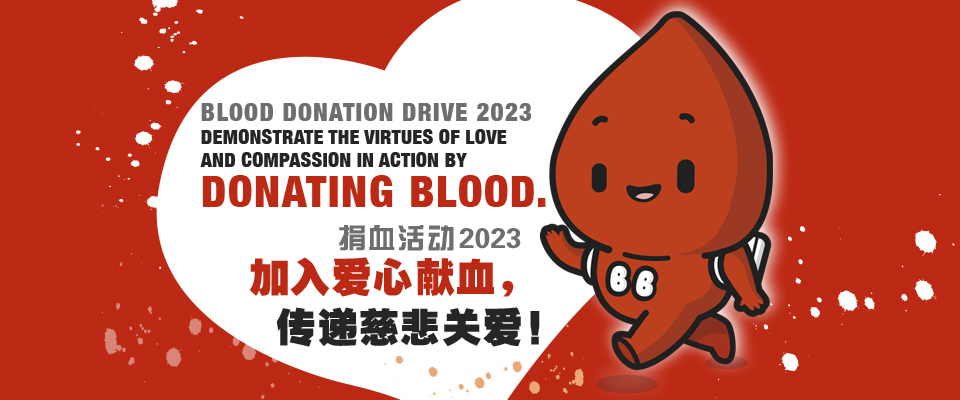 Blood Donation Drive 捐血活动 2023
Did you know that donating just one unit of blood can save up to three lives? With the country requiring approximately 400 units of blood every day to meet the demand for saving patients' lives, your act of kindness could bring hope to many people.
Demonstrate the virtues of love and compassion in action by donating blood!
您是否知道只需要捐献一单位的血液,就可以挽救三个人的生命?新加坡每天需要约400单位的血液来拯救患者的生命,您的一份善举,将为更多人带来希望。
加入爱心献血,传递慈悲关爱!
14 May 2023 (Sun) | 9am to 3pm
Hall of No Form | 无相殿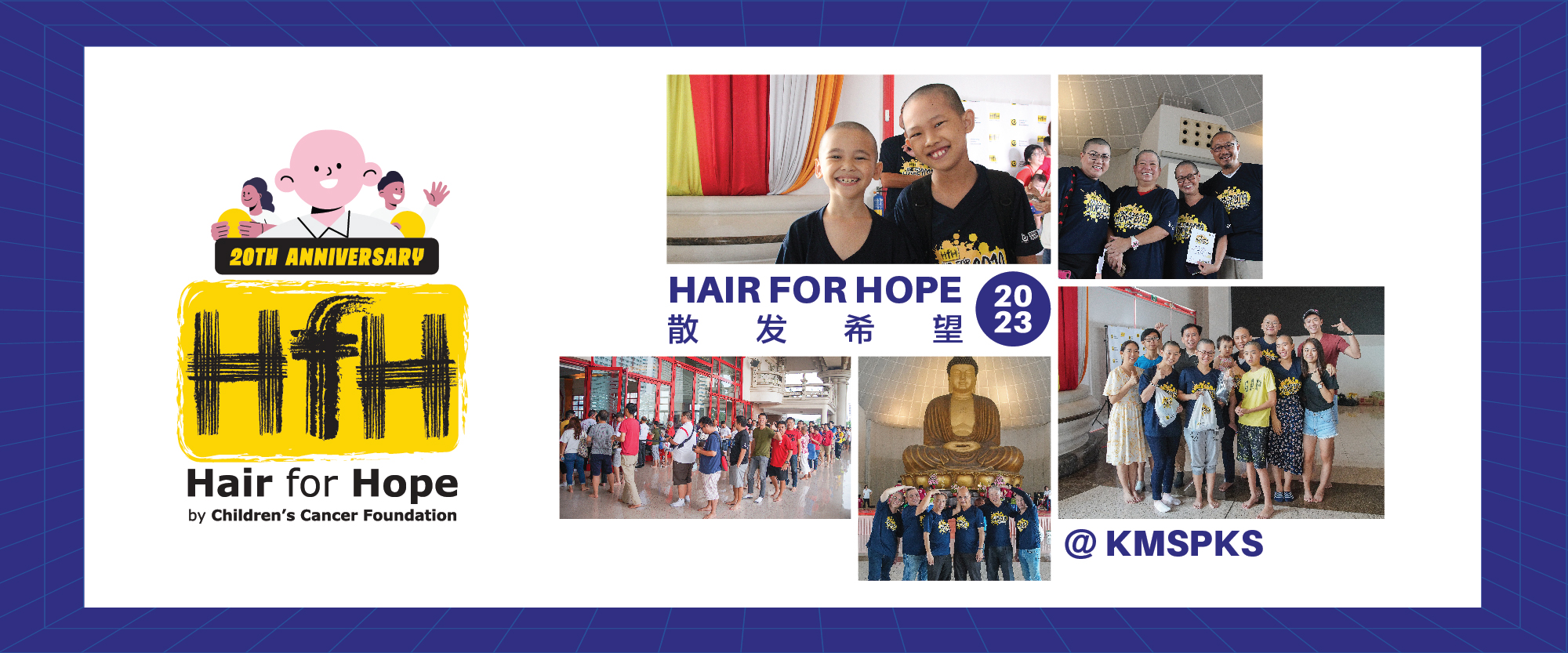 Hair for Hope 散发希望 2023 at KMSPKS
Demonstrate the virtues of love and compassion in action by participating in the "Hair for Hope" head-shaving campaign to create awareness around childhood cancer and raise funds for the Children's Cancer Foundation.
参与"散发希望"削发活动,为儿童癌症基金会筹募资金,并提高公众对儿童癌症的认知,从而传递慈悲与关爱。
30 Apr 2023 (Sun) | 10am to 2pm
Hall of No Form | 无相殿