On Taming the Monkey Mind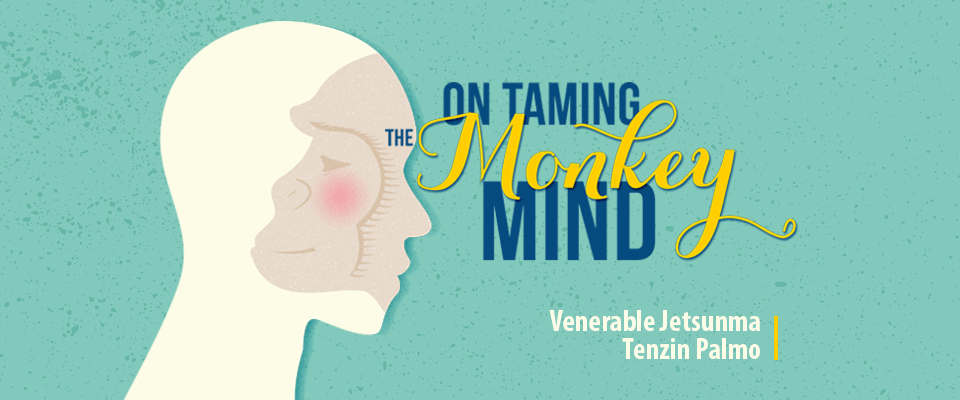 Our lives are ruled by our mental and emotional states. We have what the Buddha refers to as a 'Monkey Mind', which is untamed and out of control. So how can we develop healthy and well-balanced minds in our stress-filled lives?
During this free talk, we are honoured to have the revered Jetsunma Tenzin Palmo to teach you basic techniques to calm your mind and focus better. She will also share how you can transform your life into an ongoing Dharma practice through cultivating qualities such as mindfulness, patience, generosity, and compassion.
Don't miss it!
Instructor:
Venerable Jetsunma Tenzin Palmo
Ven Jetsunma Tenzin Palmo was raised in London. She travelled to India when she was 20 to pursue a spiritual path when she met her teacher, His Eminence the 8th Khamtrul Rinpoche, a Tibetan Buddhist Lama. She became one of the first Westerners to ordain as a Tibetan Buddhist nun. The inspiring story of her life, including 12 years of secluded retreat in a Himalayan cave, is the subject of the biography, Cave in the Snow.
A popular Buddhist teacher, she presents the Dharma in an accessible manner to audiences across the world, offering methods to apply the Buddhist teachings in everyday life.
Jetsunma is the founder and Abbess of Dongyu Gatsal Ling Nunnery in India, where some 100 young women, from the Himalayan region receives monastic training.
In 2008, Tenzin Palmo was given the title of Jetsunma, meaning Venerable Master, by His Holiness the Twelfth Gyalwang Drukpa, Head of her lineage.
Date:
11 January 2020 (Saturday)
Time:
3pm to 4.30pm
Venue:
Venerable Hong Choon Memorial Hall l Level 4 | Hall of No Form
Fee:
Free
( Registration is required )