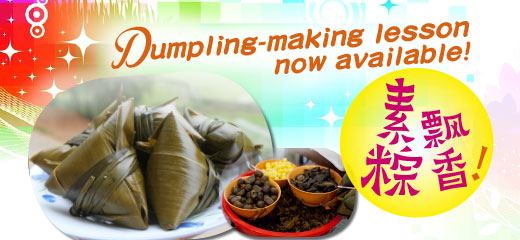 *This Event is FULL - Dumpling-making lesson! (Volunteers Only)
Where else in Singapore can you find vegetarian dumplings that are beautifully wrapped and rich in filling? Here is your chance to learn how to wrap a dumping! We are opening an exclusive class on making dumplings for volunteers.
Don't miss the chance to learn this unique skill!
素粽飘香!本寺的素粽子,馅料丰富,包扎结实美观;享誉全岛。除了烹煮食材,包扎功夫也挺讲究的。您是否想学习包扎粽子?机会来了!
本寺将开班教导包扎粽子,有兴趣者,敬请即刻报名。(只供本寺护法)
25 May 2019 (Saturday) | 12pm
2019年5月25日 (星期六) | 下午十二点开始
Venerable Hong Choon Memorial Hall | Dining Hall
宏船老和尚纪念堂 | 2楼 | 斋堂

学会了包扎粽子技巧,鼓励您回来贡献!
You might also be interested in.. 您可能喜欢…