Shui Lu Grand Prayer 水陆法会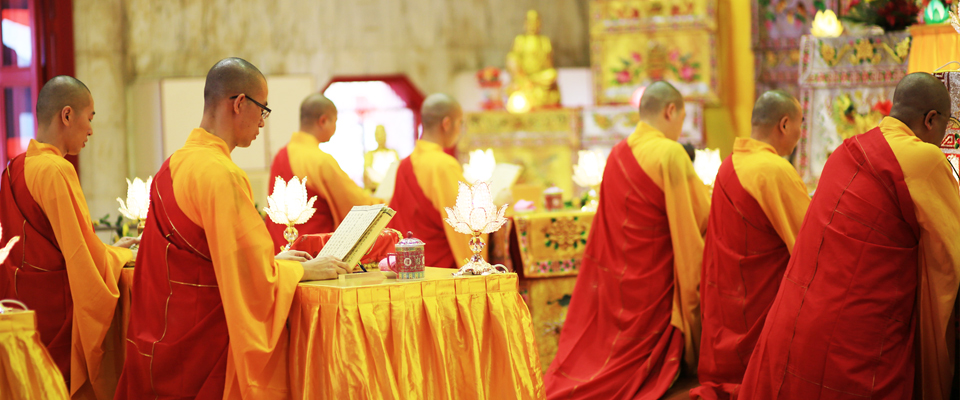 Significane of Shui Lu
The Grand Prayer that Blesses and Benefits All Sentient Beings is one of the grandest and most supreme of Chinese Buddhist prayers. This grand prayer liberates sentient beings from suffering through the extensive merit generated by making offerings of Dharma and food, so that all beings can attain happiness and enter the path of Buddhahood.
Participating in this grand prayer generates inconceivable merit for both the living and deceased. As one is making offerings to the Triple Gem of the ten directions and to tens of thousands of sentient beings within the six realms, the merit arising from this benefit not only oneself, but also one's immediate and extended family.
This grand prayer takes seven days and nights to complete, and involves approximately 100 Venerables. 11 different prayer texts are recited in the various Inner and Outer Shrines.
水陆法会,是佛教佛事中最隆重殊胜的一种,即施斋食供养水陆众生,并说法以救拔。据说梁武帝曾夜梦神僧告之"六道四生,受苦无量,惟启建水陆无遮大法会拔济之,始能离苦得乐,步向佛道。
参与水陆法会,冥阳两利,亡者超度;生者植福。水陆法会以众缘共同成就,发一善心随喜参与,就有无量的不可思议功德存在;功德其实贵在一念的虔诚,能够不为一己而为一切众生,其所发的愿心愈是广大,功德愈是不可限量。
启建一堂水陆法会,需七昼夜才能功德圆满,共分内坛、外坛八个坛口;法师领众礼忏、修福。其中洒净、焰口法会及圆满日的送圣,是整个法会三大重点。总计约需百位以上法师,动员人力、物力颇巨。
Upcoming Schedule: 09 -16 Dec 2018
水陆法会(暂定) : 09 -16 Dec 2018
水陆法会登记: 01/09/2018
Registration & Enquiry (报名处): Front Office | 寺务处
9am – 4pm | 6849 5333 / 6849 5300
You might also be interested in.. 您可能喜欢…