Gratitude Corner |  Gratitude Shop | Green Ambassador
Announcements
We seek your kind understanding that ceramics, mirror, wooden items and furniture are not accepted.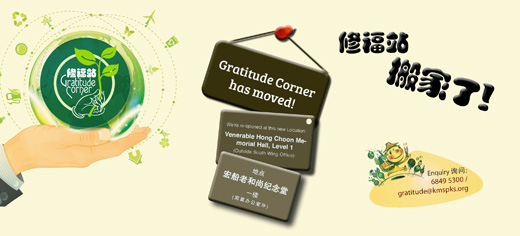 Gratitude Corner 
Our Location (map):
Venerable Hong Choon Memorial Hall, Level 1(Outside South Wing Office)
We continue to seek your understanding and cooperation to clean the items before bringing them over to us.
Items for collection:
• Paper
• Plastic
• Metal
• Clothing
• Aluminium cans
(Note: Ring tabs collected will be sold as a recycling material due to the organisation Ring for Life will no longer collect it from Singapore. We encourage the recycling of the entire can in the future instead.)
Items NOT for collection:
• Soft Toy
• Religious statue
• Cassette and electronic items
• Furniture and other bulky /heavy items
• Items more than one metre in length/width eg. Golf Clubs
• Items with food stains/ ants/ other "life forms"
• Clay, ceramics, porcelain and old kitchenware
• Shoes, rubber, leather and Styrofoam items
• Diapers, undergarments, socks, pillows and other similar items
• Mattress, curtain and carpet
• Wooden items, mirror, glass window, fluorescent lamps and batteries, glass frame with/without paintings, wooden frame with/without paintings
Enquiry: 6849 5300 / gratitude@kmspks.org / Poster
• Please note that books (including Dharma books) that are donated here will be recycled into paper.
• Kindly place the recyclable items neatly when you deposit them at the Gratitude Corner.
Gratitude Shop
Looking for pre-loved items? Buy from our Gratitude Shop to save your pockets as well as do your part for the environment. Come down to our Gratitude Shop and you may just stumble upon treasures!
Protect the Earth for our future generations and your pockets by purchasing mindfully.
Check out our Gratitude Shop to get cheap and good deals! Some of items on sales are: Clothes / Books / Buddhist CD items/Various collector items and more!
Date/Time: Every Sundays – Fridays |10.00 am – 3.00pm (except Sat, opens 12pm till 4.30 pm)                                      / Poster / Facebook
Venue: Outside Front Office
For any enquiries, please call 6849 5300 or email gratitude@kmspks.org
Be Our Green Ambassador Today!
KMSPKS' Gratitude Corner is looking to groom volunteers to become our Green Ambassadors! As a Green Ambassador of KMSPKS, you will be assisting in our recycling work, caring for the environment as well as the less fortunate, educating the public on the importance of environmentalism and internalising the value of gratitude, which is aligned with the Buddha's teaching of gratitude, in all levels of our daily life. Join us as a Green Ambassador today! Learn the Four Truths of environmentalism and how you can do your part to purify our Earth and minds.
Click here to sign up!
For any enquiries, please call 6849 5300 or email gratitude@kmspks.org